Sunday Projects: A walk through the Farmer's Market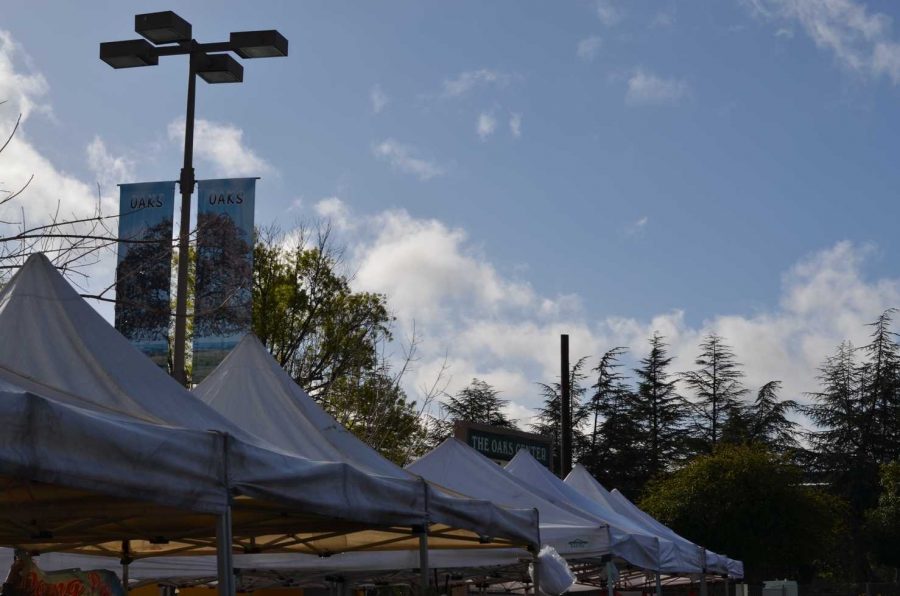 A

t 8:30 a.m. every Sunday morning in the Oaks Shopping Center parking lot, tents snap open, tables unfold in even rows, produce is laid out and vendors wait for the first customers to trickle in. Scroll through the stories below to explore some of the booths in the Farmer's Market.

A Full Spread
Standing behind a booth full of colorful sauces, hummus and pita bread, Foothill College junior Lillie Wilkes lays out samples for passersby to try. Wilkes, who comes to the Farmer's Market every Sunday, also works at Oren's Hummus Shop in Palo Alto.
Wilkes found herself quickly growing to love the job and learning about each and every product sold, while still maintaining her college life. She knew all about how the restaurant made the organic hummus, by getting the chickpeas and the spices from Israel. Wilkes learned how they made bunches of eggplant dips with the Israeli spices.
When asked for her favorite item, Wilkes had a few ready.
"The hummus is really good, and the hummus with the white pita," Wilkes said. "I like [the white pita] better than the wheat, it's fluffier. And then [when] you put the chili garlic sauce on it it's a super good combo. And the cabbage is really good."
A Fruitful Harvest
In the farthest booth of the market a man and a woman dressed in matching aprons smiling happily at the customers as they pass by. Hundreds of oranges surround them, flowing out of overturning baskets. Between them lie dozens of packets of different specialized farm-grown nuts. Steven Hampton, the man behind the stall, has always been interested in farming.
"We've always had [a farm], growing up in our city and it was just always something I was interested in," Hampton said. "I knew how to farm. I've always been around tractors my whole life, so it just made sense."
Hampton enjoys the market atmosphere — a bustling plaza of different customers walking to and fro, grasping their groceries in their hands, seeking more. But what he loves the most are the opportunities to meet new people and to provide customers with a bag full of oranges.
Popped fresh for the day
When Mike O'Connell pops his head out of the small opening in the tarp that covers his stall, it's usually with a plastic bag of kettle corn in his hand to give to young children, and sometimes to adults looking to indulge.
"You know a lot of adults like it, it's probably about 50-50. I have several older customers that are very regular, and then a lot of parents that bring their kids here," O'Connell said. "This is a treat for their kids for coming and suffering through the farmer's market with their parents."
He has been working at the farmer's market selling kettle corn for a year and a half. Though O'Connell is not the owner of the kettle corn stand he began working at farmer's markets as a result of the owner, who he knew before, asking him to join.
Dressed warmly in a green sweater and jeans, O'Connell sets up the giant kettle corn popper. He begins by opening up the main chamber and lighting the fire, then closing the lid and pouring oil into the huge bowl that sits atop the flames. As the oil heats up, he begins to place the corn kernels inside, waiting until they've just begun popping to add in the sugar that will transform them from popcorn to the sugary treat that adults and children alike enjoy at the market.
Once the kernels have been popped, he transfers them to the sifting tray before adding a pinch of salt to the whole batch. The sifting tray serves as a place to mix in the salt and also allows the un-popped kernels to fall away, before being bagged and handed to the waiting arms of a customer
Fresh from the farm
Stacks of eggs surround the man who sells them, standing tall as he peers over to talk to his customers. He's manning the stall for a family-owned egg business that started with his mother nearly a year ago. She began with 200 hens on her farm, a number which has now grown to 1200 hens. But stall owner Lorenzo Antonio Rízo has been working in the farming business for years with his uncles.
Rízo currently works at farmer's markets around the Bay Area on Mondays, Tuesdays, Wednesdays, Saturdays and Sundays. He then works back on the farm the other 2 days of the week. But Rízo didn't always have a stall to man at these markets.
"When my mom [got] the coop, we [were] trying to sell the eggs at the Farmer's Market under the table, right?" Rízo said. "Someone snitched [on] us, the inspectors come to us and check the egg [sic], and the inspector give us application to sell at the Farmer's Market so it was good for us."
Veggie Tale
Only two heads taller than the mound of pumpkins and peanuts on the table, stall owner Lou Yang wields a threatening knife, swiftly chopping and separating soiled cabbage leaves from the pristine cabbage heads.
Before entering the farmer's market scene, Yang encountered some troubles with wholesalers.
"We were picking and packing [vegetables for] wholesalers," Yang said. "But they don't pay me like fifty-sixty thousand dollars."
Turned away by the low compensation, Yang decided to give the Bay Area's farmers markets a try, and she eventually received a certificate from the county certifying her to distribute and sell her vegetables to the public. Yang is involved with three farmer's market associations, two in California (one of which is the West Coast Farmer's Market Association), and another known as the Pacific Coast Market Association which operates throughout the San Francisco Bay Area.
While Yang plants forty to fifty varieties of vegetables year-round, some specific types are seasonal. In the winter, Yang sells Napa cabbage, mustard, taro and cilantro, while summer seasons are catered to eggplant.
"At first, I was still young and enjoyed my job, but now I [am] getting old and work too hard I cannot [sell and grow vegetables]," Yang said, "[but] maybe a few more years."
About the Writer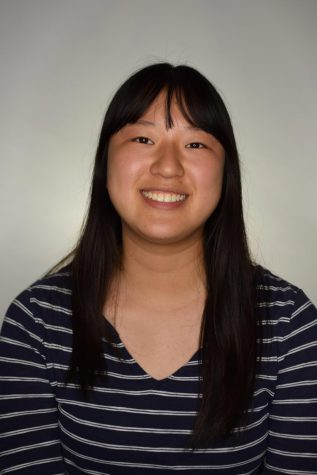 Jennie Chen, Staff Writer
Jennie Chen is a senior and third-year staff writer on El Estoque, and has previously served as the beats editor and the PR editor. In her free time, she enjoys reading various articles and blog posts.