Reaching for the rink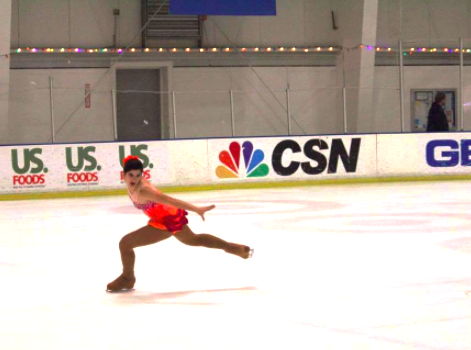 She stumbled onto the sheet of ice, struggling to grip the wall next to her. It was her first day skating at the Sharks Ice in San Jose, home to some of the most prestigious skaters in the nation.
Just a few feet away from her was the two-time U.S. Championships national silver medalist Polina Edmunds, here to be interviewed and filmed by a TV crew. The amateur skater had just landed a waltz jump before she saw Edmunds quickly dodge her. She had ruined the Olympic skater's routine.
At the age of seven, sophomore Sabrina Stone went to the Vallco Ice Center rink with her dad, who was an ice hockey player — his time on the ice gave Stone an opportunity to try ice-skating.
Although Vallco has an extensive beginner's learning program, Stone admits that it isn't the right environment for more competitive skaters. As a part of the mall, she believes the smaller rink is more focused on being recreational.
After discovering her passion at the local Vallco rink, Stone decided it was time to grow her ice-skating prowess. And so she enrolled in classes at Sharks Ice in San Jose.
Sharks Ice is comprised of four larger rinks compared to Vallco's single smaller rink. Stone believes that there are better facilities and more dedicated coaches and skaters at  the San Jose center. But, being accustomed to Vallco's noncompetitive environment, Stone was nervous when first arriving at Sharks three years ago.
"Everyone there seemed so focused," Stone said. "And if you get in their way, they might get angry at you."
A part of Sharks Ice's program is the freestyle sessions, which are free skating hours catered to competitive skaters, giving them an extensive practice opportunity that Vallco doesn't offer.
Vallco ice skating teacher Kate LaBarbera explains that the Vallco center follows a different set of requirements that follows Ice-skating Australia, while San Jose follows the United States Figure-skating Association. USFSA has a stricter program that is less lenient when evaluating skater to pass levels. It is more targeted to prepare skaters for the Olympics.
"We send some kids to Sharks Ice who are very serious and who want to skate and have that pressure," LaBarbera said. "And a lot of kids come from Sharks Ice to us who just want to skate for fun."
As a skating coach for almost 30 years, LaBarbera emphasizes the time commitment required to skate at Sharks Ice.
Before enrolling at Sharks Ice, Stone was practicing around three hours a week and only taking three classes at Vallco. Now, she skates about seven hours each week, adding two one and a half hour off-ice lessons for ballet and full-body strengthening.
Stone admits that going over 13 miles southbound to San Jose can be tedious due to the traffic on weekdays. But with the energy and excitement that comes with skating, it's a sacrifice she's willing to make.
"
"When I'm skating around really fast, or when I do a jump or a spin, and I get the position just right, I feel really accomplished." -Sophomore Sabrina Stone"
Unlike speed-skating which is solely racing on ice, figure-skating involves a variety of jumps and spins. This gives athletes an opportunity to combine their technical skills with their artistic skills.
Senior Jessica Zhao competes in a different type of figure-skating called ice dancing. Derived from figure-skating, ice dance is comprised of different types of dance on ice, such as ballroom, tango and waltz.
However, skating was not always a focus for Zhao. At the age of three, her mother enrolled her in a lesson, but was later told by Zhao's coach that she wasn't yet ready to skate. She then experimented with other activities such as gymnastics and piano. Zhao also took up dancing, which many skaters find useful in their career as it maintains the gracefulness required of ice dancers.
"You not only demonstrate your athleticism and how strong you are, but you also have to be elegant at the same time," Zhao said.
Zhao had also finished preliminary classes at Vallco by the age of 12 and later moved to Sharks Ice with the hope of participating in more competitions, including several national ones.
Despite the inconvenience of not having an ice rink at every block, for the three skaters, ice-skating is not only a competitive hobby but a stress-reliever.
"I love ice-skating," LaBarbera said. "There's something about it for when you have a bad day, when you're kinda feeling shlumpy, the minute you step on the ice, my shoulders go back, my head goes a little higher; it's an amazing feeling."
About the Writer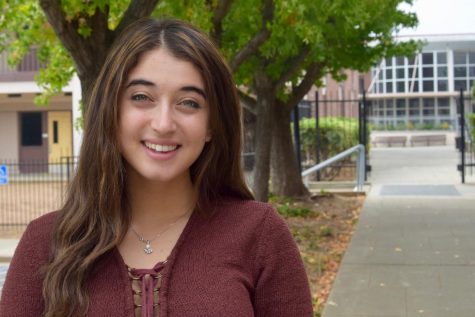 Rana Aghababazadeh, Co-editor-in-chief
Rana is a third-year member of El Estoque and is currently a co-editor-in-chief. She is a former sports editor and enjoys covering basketball and volleyball. In her free time, she enjoys playing movie scores on the piano and watching Billboard's Top 50 hip-hop and R&B Songs of the Week.