French Honor Society takes part in debate at Lynbrook HS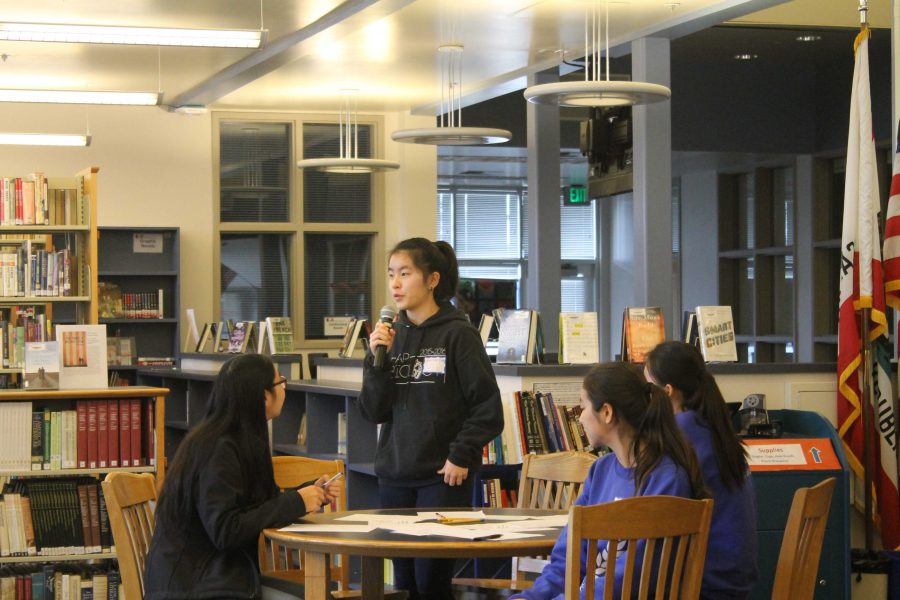 Amanda Chan
February 6, 2017
Students filling up two rows of chairs and a panel of three judges watched and listened attentively to the contestants sitting at the two tables in front of them. For about 25 minutes, the two groups went back and forth debating in French about whether social media or news websites are better for informing the public. Students from MVHS, Lynbrook HS and Cupertino HS French Honor Society were gathered in the LHS library on Feb. 4 to participate in an annual debate.
The interdistrict event gives students the chance to be either spectators or actual debaters. MVHS French Honor Society president and senior Christine Chyu was a spectator for the past two years and tried debating for the first time this year. She felt nervous at first as she didn't have any experiences like this before, but once she began debating, Chyu felt more comfortable with expressing her ideas in French.
"For me, it was kind of nerve wracking because I can't debate in English, so debating in another language was pretty difficult for me," Chyu said. "But it wasn't as bad as I thought…because in the beginning, the president of Lynbrook's French Honor Society said that it's supposed to be a comfortable space where there should be no judgment, and it's just a way of practicing your French. So I didn't feel like I was really being judged even though it was a debate and there were actual judges."
Scroll through the photo gallery above for photos from the event.
Chyu found that the event was a good opportunity to apply her learning from AP French and prepare for the AP test, which requires a lot of speaking. Even though her group didn't win the debate, she enjoyed the challenge of debating for a side she didn't believe in — that social media is a good resource for learning about the news.
LHS senior Vaishnav Balaji, who has been in French Honor Society for two years, also participated as a debater for the first time. Although he has had similar experiences with debating in his French class, this was the first time he took part in an event like this outside of school.
"I was a bit nervous before because I wasn't sure how good my French level would be compared to some other people," Balaji said. "But then after we actually started doing it, it was really interesting and comfortable to debate about these things because they were fun topics and we weren't alone, we actually had five other people on our team."
Similarly to Chyu, Balaji saw the debate as a chance to apply what he learned from French class.
"We've learned a bunch of this stuff in our French classes for the past two years and this is a really good application of it because we got to talk about the things we learned and explain ourselves in French," Balaji said. "[It's] really useful because I think when you're learning a language the most important part is being able to speak in the language."