Celebrando la diversidad: Hispanic and Latino students and staff share experiences at MVHS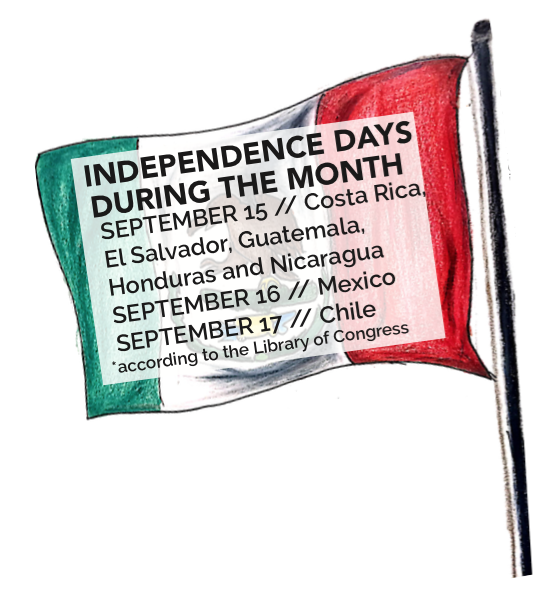 Fatima Ali
September 21, 2016
A

ll eyes are on her as she ruffles her turquoise dress and takes a seat. This is the moment she has dreamed of for years. She glimpses her glittery nails and ring embellished with "15," and then looks over to her father as he unstraps a pair of high heels for her. Blue flowers and rhinestone straps adorn the silver heels — the very heels that signify the end to her childhood.

Finally, it's time. She takes off her teal Converse sneakers and straps on the shiny heels. Junior Natalia Osorio has finished performing the shoe changing ceremony of her quinceañera. It's the start of her womanhood, the same start that all her family had and would have. A Latino tradition.

National Hispanic Heritage Month occurs from Sept. 15 to Oct. 15. Americans celebrate and recognize Hispanic and Latino culture during the month.

"It's a time when you can really show your culture and not just whatever you see on the news
or soap operas, [but] the real foundation of where this culture was built," Osorio said.

For Spanish teacher Maria Autran, only certain days of the month hold significance, like Mexican Independence Day, especially since the month is a national holiday in the U.S. only. In Spanish classes, students celebrate the holiday by listening to music and a presidential speech while eating traditional foods like flan. Autran doesn't celebrate the entire month because she grew up in Mexico, but she still strongly values how the month gives a great opportunity to Hispanic people living in America, especially artists. "I tend to look back to the artists or the important people that exist in Mexico that I know and that I can identify with, compared to maybe the Chicano community or the Chicano movement."

Being a minority at MVHS

A

ccording to the MVHS school profile from last school year, less than two percent of students were Hispanic or Latino, a striking minority when compared to 82 percent Asian.

For Colombian senior Felipe Sosa, the lack of Hispanics at MVHS means finding someone to relate to can be hard. Osorio agrees, saying that when she does find fellow Latinos at MVHS, she finds it fairly easy to connect with them. To her, the smaller sized community makes it more special, and she enjoys talking to them.

Autran too chooses to see the bright side of being a minority at MVHS. She doesn't feel a need to teach anywhere else. Once, a teacher asked her whether or not she ever considered teaching at Fremont High School because of the larger Latino population. Autran responded immediately, shaking her head no.
"Because I'm Latina, I can contribute [to MVHS], " Autran said. "Not just to my students and my classes, but also, I [can] be the voice for Latino or Spanish speaking people, and that's why I stay."
Being a minorit
y at MVHS comes occasional discrimination. Autran often feels she is viewed as a stereotype solely based off her accent, and has moments where young people laugh at the way she talks. In these occasions, she chooses to stop and take a moment to explain why her accent exists. She doesn't think she is obligated to do so, but feels she should because somebody has to teach the youth.
"We have to be respectful of the way people talk," Autran said. "I think it's something that's not taught at home, not taught at schools — it's something that we need to work on."
Sosa doesn't face discrimination often at MVHS, but off-hand racial comments are still thrown his way. "Sometimes within friend [groups] they know me as, I don't know, the 'cholo' or whatever," Sosa said. "They'll make jokes and I'm fine with it, but once in awhile, it gets to you."
Although cholo has various meanings, in some contexts it's used to describe gangsters.
For Autran, a heightened level of awareness of Hispanic culture occurred while she switched to teaching higher levels of Spanish, with classes comprised of mostly upperclassmen. Autran would sometimes hear negative comments in her underclassmen classes, especially about Mexican immigrants.
"Many kids used to be very cruel about their comments," Autran said. "But that gave me an opportunity to teach and to talk about why a lot of Mexicans come here, why a lot of Mexicans come here illegally and that [illegal immigration] doesn't only happen [in America]."
Now her students seem to be more informed and less prejudiced. "The [students] that I have now are well-rounded,"
"The [students] that I have now are well-rounded," Autran said. "They have taken all these classes where they talk about different things like how important it is to acknowledge all minorities and appreciate [their] contributions."
Updated on Sept. 23 at 4:07 pm: The definition of "cholo" has changed to fit the context of Sosa's quote correctly.