Sophomore Aarushi Shah wins 17th annual Congressional App Challenge for app, 'DreamBuckt'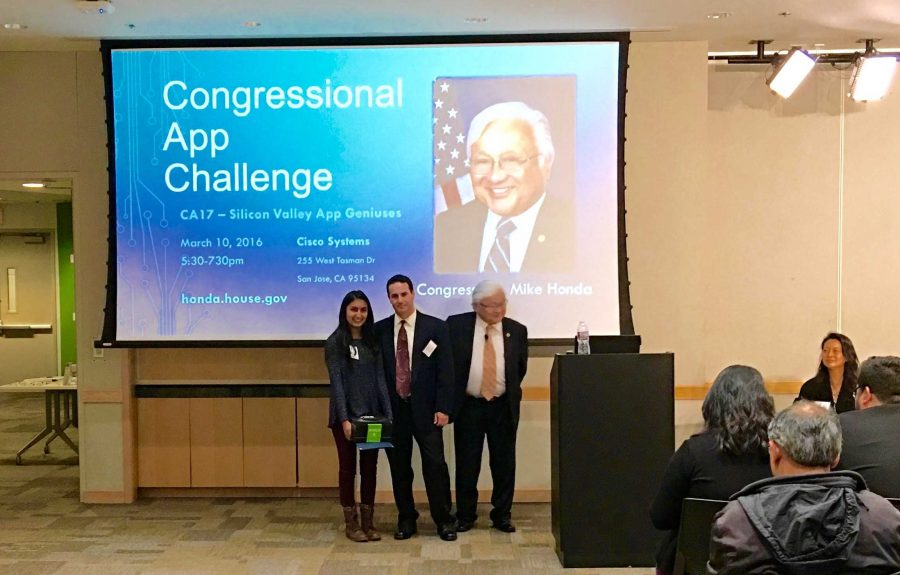 Chetana Ramaiyer
April 26, 2016
Co-authored by Kingsley Wang and Fatima Ali.

A

t the end of freshman year, sophomore Aarushi Shah and her friends were looking forward to the summer ahead of them. They tagged each other on Instagram posts of cool summer activities and made lists of all the things they wanted to do before school started again in August. Shah was inspired and decided to create an app, named "DreamBuckt" that creates digital bucket lists.

"My friends make bucket lists on paper and they always get lost," Shah said. "I was like 'Oh!' You can make it on your phone and keep it forever.'"


Users are able to track important goals they want to achieve within a lifetime and rate each goal's importance on a five star scale. Once a user finishes their goal, they're able to upload pictures and share them with friends. After the user has completed some of the items on their list, they can choose to create a vision board. This is essentially a collage of pictures of all the goals they've completed on their list. By the end of the summer, Shah applied for her app to become available for users on the Apple app store. Shah had to re-submit three times but eventually in September of her sophomore year, DreamBuckt was approved and ready to be used.

Six months later, Shah entered her app in the 17th annual Congressional App Challenge run by U.S representative Mike Honda. Shah didn't have any expectations of winning, but decided to apply anyways. The competition required contestants to send in an app along with a video that demonstrates the uses of the app.

Sophomore Aarushi Shah created a video explaining how the app works. The video is used to determine the winner of the competition by the panel of judges.

Two months had passed by and Shah wasn't thinking about the competition. But then, on the evening of Feb. 22, Shah checked her email, read through it, and screamed — she won. Shah found out that DreamBuckt had won the 17th annual Congressional App Challenge. Shah knew that her app was strong, but she'd never thought she had a shot at winning.
Shah's app was decided as the winner by a panel of judges including Honda, representatives from the San Jose State University Computer Science department, San Jose Unified School District, Microsoft, NASA, Nvidia, Google and Coderdojo.The news was publicized on Honda's website a day after he announced Shah as the winner.
"I am so proud of Aarushi and all the students who participated in the Congressional App Challenge this year," Honda said on a Facebook post. "More than anywhere else in our nation, Silicon Valley must lead the way in preparing all of our students for the jobs of the 21st Century. STEM education has helped Aarushi win the App Challenge and, when she graduates, it will help her find a job she loves in a growing American industry."
As for the future, Shah is still unclear of what direction her app is headed towards.
"I might try to get more users" Shah said, "or I might just try to make another one."
Regardless of where this app goes in the future, Shah can check creating an award winning app off her own bucket list.