The loaded pizza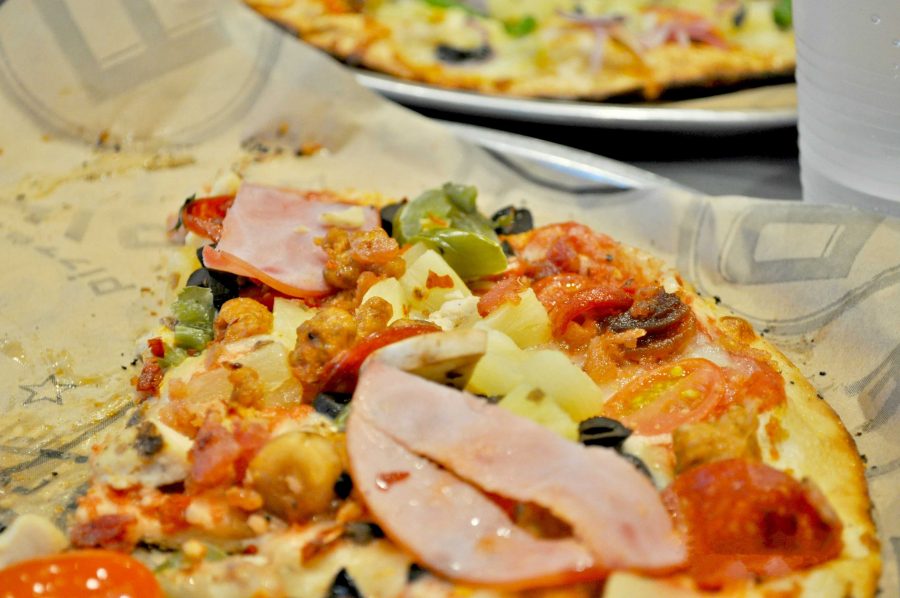 Sebastian Zhang
February 5, 2016
CRUST: White
BASE: Herb butter
SAUCE: Red sauce
CHEESE: Mozzarella
TOPPINGS: Sausage, ham, Canadian bacon, pepperoni, shredded chicken, mushrooms (just a little; they were on low stock), jalapenos, olives, cherry tomatoes, pineapples, pepper flakes
I'm indecisive by nature. Give me a menu with 20 options and I'll read it through for a good fifteen minutes. But with Pieology's system, I got exactly what I wanted, efficiently. However, I did find that their unlimited toppings system made it easy to go overboard, at least for me, so self-control is important. And for people who don't trust their own judgement, there is a menu of pre-designed pizzas, which I think is a useful feature.
The pizza was sexy, tasty and fresh — much better than the ones from Round Table that I normally eat. For less than $9, it was more than enough to satisfy me, and I hadn't eaten anything that whole day but an egg and half a bowl of oatmeal for breakfast. Plus, I had four slices leftover.
I do have a couple concerns. I think it would be good to offer different sizes, since right now, there is only one option. Not everyone wants a whole pizza if they're just trying to get a quick lunch, and Pieology is all about customization, right? Another thing is, the line moves a bit slow, due to the nature of the create-your-own pizza system. But the wait is worth it, since the pizza is quality. A slower line can even work to their advantage, as it regulates people coming and people leaving, which can help prevent a seating shortage during busier hours.
Once the rest of Main Street is completed, and more crowds are attracted, I can see Pieology becoming a popular place to meet up for an inexpensive meal.