Girls basketball: Team secures win against Fremont HS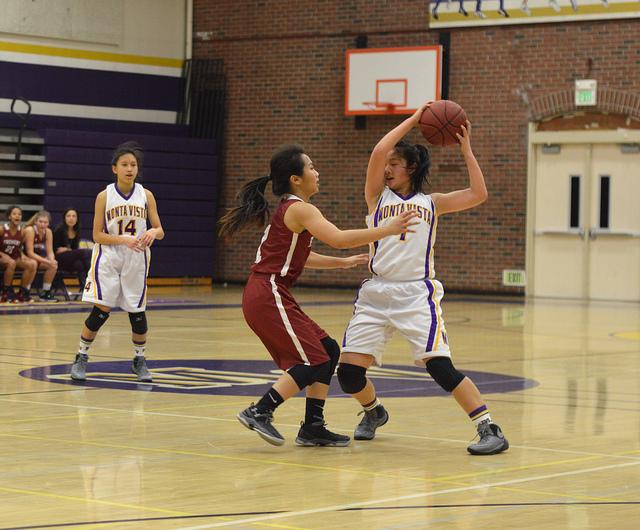 The squeaking of Nikes and the shouts of players resonated throughout the main gym as the girls basketball game against Fremont HS began at 7 p.m. on Jan. 12. With strong synergy between the players and fluent ball movement on both offense and defense, the Matadors clinched a 41-30 win against FHS.
Photos by Issra Osman.
The game opened with MVHS winning the tip off and acquiring six points before the opponents could score. The Matadors played aggressively and had control of the boards until the first quarter ended with a score of 13-5 in MVHS' favor.
"We started to rebound a lot more and limit turnovers, which was something that we've been working on throughout the season," senior Kirthi Gomatam said.
The game took a turn in the second quarter. With increased control and more forced turnovers on FHS' part, the Matadors, who lacked the speed and consistency they had before, only scored three points. Meanwhile, the Firebirds scored 10, to reduce the deficit to just one at the half.
"I feel like we weren't working as hard and we weren't talking as much," junior Rhea Rangarajan said, "so we didn't score that much and it was a low point of our game."
Despite this drop of performance, the entire team recouped in the third quarter, increasing the pace and communication and widening their lead to five. Rangarajan also regained her offensive streak and made a series of three-pointers and effective passes.
"I took more shots and open looks, and I was more aggressive on offense," Rangarajan said. "I usually try to be, but sometimes I get too scared, or not as confident. But today, my confidence really went up."
In the final quarter, the team maintained steady defense and continued to make swift passes, active blocks and drives to the basket. At times, FHS went several minutes without seeing scoring, while the points went in consistently for the Matadors, widening their lead.
"We picked it up third and fourth quarter, and we played really hard throughout the game," freshman Neha Kolur said.
The game came to a close with MVHS coming out as the winner 41-30. The team felt the game was telling of their skill and what they had been working on all season.
"As a team, I think we just need to move forward and get better, keep talking more," Rangarajan said. "Overall, I think our defense is going to win games for us. If our defense is good, we'll be successful in season."`
The team will be playing Lynbrook HS on Jan. 15 at 6:15 p.m.