Channeling You: MVHS students describe how Youtubers affect their daily lives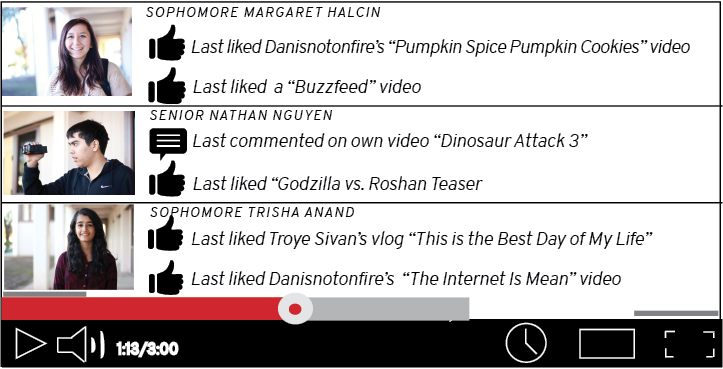 Shriya Deshpande
November 18, 2015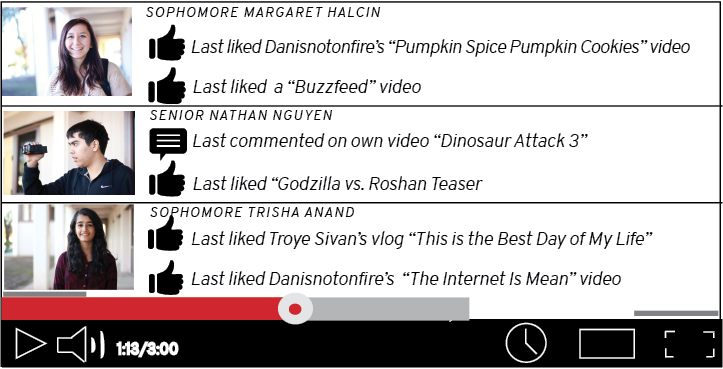 T

yler Oakley: 7.7 million subscribers. Troye Sivan: 3.6 million subscribers. Dan and Phil: 1.6 million subscribers.

The large numbers above beg the question: What is it about these individuals that has garnered the attention of millions of fans internationally? And in particular, what is it about these individuals that draws some MVHS students?

Senior Nathan Nguyen has an answer, and the answer starts with a moment in 2010, when he first created his Youtube channel. Although initially he was creating short video clips for fun, as a simple and creative way to spend time with friends, it grew to be something much bigger.

Soon, he started watching videos that other Youtubers were creating, especially Lego stop motions, and came to realize that the ones he most enjoyed were ones he wanted to recreate with a unique twist of his own. He did exactly that and as Nguyen posted, the number of subscribers slowly rose.

His channel now has 24,853 subscribers and features short films about dinosaurs and seasonal movies, such as a Halloween themed horror film in October. Nguyen uses analytics as feedback to see what people enjoy watching.

"I make movies that I would watch, Nguyen said. "Viewers expect the dinosaur ones the most […] I m
ake sure to give my viewers the dino fix that they desire."

Using other Youtube videos and his audienceís interests as inspiration, Nguyen and his friends collaborate to create scripts and short films for a variety of different topics. Not only does he enjoy watching others'  videos, he tries to emulate what he sees to entertain his viewers and himself.

Sophomore Trisha Anand, avid Youtuber follower, has an answer: She thinks part of what has allowed some Youtubers to reach stardom is how unique each video is and the understanding video makers have of their audiences. Part of receiving a lot of views is being receptive to what sort of content is relatable to a range of people.
She believes that the ability to form a connection between themselves and their audiences is what allows people like Tyler Oakley, an active Youtuber talking about his daily life, to grow their fan bases.
Anand formed this thought when she was introduced to Tyler Oakley's channel in seventh grade after some of her friends discovered his videos. She became a regular visitor of his channel and began hunting for other Youtubers with their own takes on school, other people and life in general.
For Anand, watching YouTubers like Oakley and Dan and Phil, who make humorous videos about gaming, and Sivan, who makes videos about his life and music, is a way to spend free time after a school day and also learn about strangers' experiences.
"Through their videos you can really tell their personalities… like Dan, I think his personality is kind of similar to mine," said Anand. "I understand what heís saying when he makes videos about certain topics, like I can relate and then Iíd want to watch more, you know, to see where I stand on things."
Even though Dan and Phil, Tyler Oakley and Troye Sivanís Youtube channels generally serve as a way to relax and have fun, it also gives Anand a sense of awareness about what others are going through and how to cope with any of her own
problems.
Youtubers carry a different sort of importance for sophomore Margaret Halcin.
Towards the end of eighth grade, she was at one of the lowest points in her middle school years. Unlike many other students who procrastinated and neglected their work, Halcin continued to struggle to earn what she considers average grades at best. Regardless of how much effort she put into her school work, it was difficult for her to keep up and the frustration grew. It was then that her depression worsened and Halcin found it difficult to keep from giving up.
During this low point, Halcin's friend introduced her to Oakley. She did not immediately realize the effect he and other Youtubers would have on her perspective on positivity and finding happiness.
When she started watching Oakley's videos, Halcin realized that he and several others had faced problems and they had found ways to overcome them. She describes how watching Youtubers who seem so enthusiastic, even with the hate they face, makes her feel happier and more excited.
"It's nice to know that thereís someone out there who went after what they wanted," Halcin said. "And they're happy now and I hope to see myself like that in the future."
During bouts of sadness, Halcin finds comfort through binge-watching television and Youtubers.
"
"Even on some days when I'm feeling a bit more down than usual, I usually go and check Youtube first," Halcin said. "Because that is one way to pick myself back up so that I don't go back to that ditch I was in.""
What Anand and Halcin both have in common, aside from following the same Youtubers, is their mentality on the Youtubers' increasing popularity.
Anand and Halcin both attribute Oakleyís growing popularity to his connectability ó when he describes random situations, the humor of the situation makes it easy for them to understand what he is saying regardless of whether they have experienced that moment themselves.
"They speak up about a problem they faced in their life that I didnít know was a prevalent problem," Anand said.
According to Anand, each channel, regardless of topic, promotes a certain ideal and each video, whether it is about how a bird pooped on Oakley or whether Troye Sivan released a new album emphasizes an aspect of their lives that can be translated to a message. Some videos show the significance of physically writing down, with pen and paper, aspirations and dreams or the importance of maintaining an open mindset about other peopleís choices.
For Anand, Youtubers help with relaxation and sometimes give life advice. For Nguyen, Youtubers are a source of inspiration in terms of ideas for his own videos. For Halcin, Youtubers help with her thoughts on negativity and school work. Even though they serve different purposes, these online gurus are impacting how students see things and feel about each other.
"If I liked [the Youtuber's] personality enough, I would enjoy them as a person too," Anand said. "Not just their content but the Youtubers themselves."