Photo Gallery :Girls water polo loses 15-8 in intense match against Cupertino High School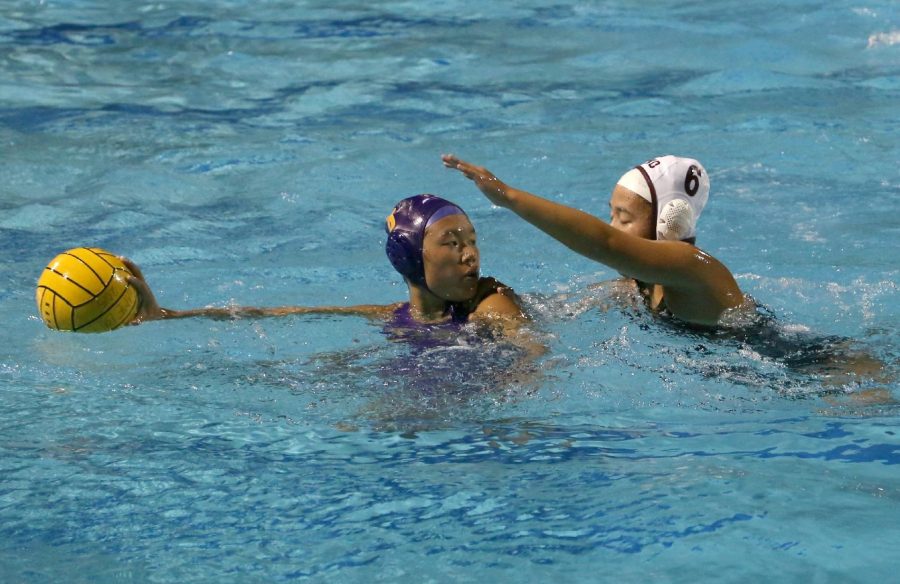 Stephanie Lam
October 26, 2015

There was only one word to describe the MVHS game against Cupertino High School on Oct. 22: intense. In the pool, players were yelling for the ball, focused only on the goal ahead. On the deck, parents were cheering from the sidelines, shouting so loud that it rang in their  ears. Even the referee was surprised, jumping a little before blowing his whistle.
"I feel, it's always intense with CHS," freshman Anika Cheerla said. "My mind before I went into this was so freaked out, because we played [CHS] before and it was scary."
CHS proved to be fierce competition, playing aggressively against MVHS. Players on CHS made constant attacks on MVHS' defense and were able to find ways to position themselves to score. Even one-on-one, the CHS players relentlessly attacked the Matadors for possession of the ball.
Sophomore Olivia Lassa's mother , Palmyra Pawlik-Lassa, pointed out how one player on the CHS team was more aggressive than the rest, strategically committing fouls underwater before the referees could notice.
"They have one outstanding player and the key to beating her is to shut [her] down," Lassa said. "Our problem is that we haven't shut her down completely."
The Matadors, in return, pushed with aggressive offense towards CHS' goal. Although many shots were blocked by the goalie or rebounded off the side, MVHS was quick to come back up to the goal. The struggle to keep up with CHS made MVHS entirely focused on only the game, and it seemed that nothing could tear them away from moving towards CHS' defense.
But even as the last few seconds of the fourth quarter dwindled down, MVHS knew that they had lost. Despite the disappointment, they believed that they played better as a team since their last encounter with CHS.
"I think we played a bit calmer and less jumpy [than the first game], at least in the second half." Cheerla said.
However, sophomore Sarah Tom believed that the team's performance could have improved, if the team had been more motivated to win.
"CHS [had] the desire to win," Tom said. "That's why they play so well as a team. For us, I'm not sure. I feel like we do want to win, but not together as a team or an individual."
The pool is quiet as the team huddles around together, relaxing the tension in their muscles from the game. The girls might have lost against CHS 15-8 but the match serves only as a reminder of what they need to improve on to win their next game.
Girls water polo has their next home game and senior night on Oct. [email protected] 6:45