Professional improv team works with drama students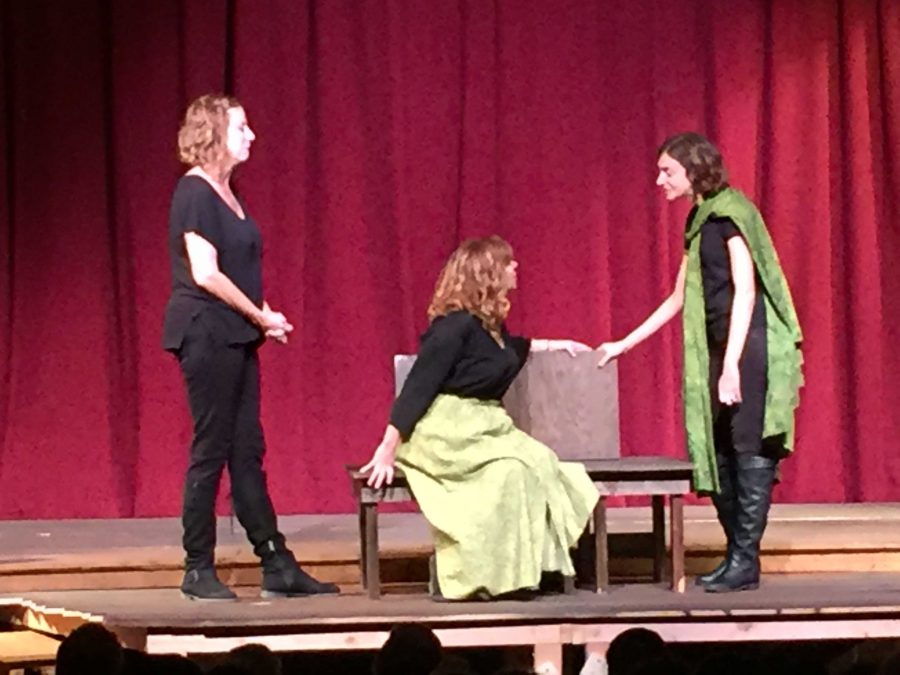 On Oct. 22, right after school, at 3:30, the auditorium slowly filled up with drama students from MVHS to schools across the FUHSD district, such as Cupertino and Fremont. Even the cast of The Laramie Project, whose play is in less than a month, has decided to sacrifice their rehearsal time to attend. All of them are gathered at the auditorium to receive a lesson about improv from  an acting group called Chickspeare.
MVHS sophomore Kayleen Nordyke is an Advanced Drama student and also a cast member of The Laramie Project, and is excited about the improv workshop, hoping she can further her acting skills on stage. 
"I hope to gain more experience on how if I forgot my lines [on stage]…than I can just come up with something on the moment and the audience wouldn't know at all what was going on," Nordyke said.
Everyone gathered in the front, the echos and chatter of every student waiting for the lesson to begin fill the room.
Then the lights go down and the floodlights fill the center part of the stage. Drama teacher Sara Capule goes up to the front of the stage and begins to talk about today's workshop. She introduces an Improv team of four women that will be conducting improv workshops, also known as Chickspeare. Chickspeare, who performs in the style of Shakespeare's comedies, is an all women improv team, originated in Los Angeles.
Sophomore Seena Ashtiani is excited about the workshop because he not only gains more skills for acting, but he also gets to hang out with his friends.

"All the actors from all the high schools from all the levels — sophomores, seniors, juniors, freshmen — they all get together and they just have fun[…]it's basically a big bonding event where we come together," Ashtiani said. "There's this group from San Jose called Chickspeare coming to us publicly and they are teaching us improv, which is going to be pretty cool."
The workshop begins with a bang and the ladies start the show. Each play they perform is different based on the feedback they get from the audience. They ask the audience for suggestions about the setting of the scene.
"Starbucks!" someone said.
Then the actors ask for a piece of advice that kids usually say to each other.
"Tumblr is bad," someone else said.
With the feedback from the audience, the actors begin to improvise a romantic love story in Starbucks, with the theme revolving around Tumblr.
Starting from the first moment of Act One Scene One, the four actresses flow through the play without a trace of stutter or uncertainty. They give themselves names on the spot, ranging from Lady Venti to Lord Frappuccino. The actors call students up on stage for each act to improvise with them, fulfilling the purpose of this event.
At the beginning, Nordyke wished to be able to "be on stage and come up with something on the moment [so] the audience wouldn't know at all what was going on." While Ashtiani also came here to improve his improv skills, he also wanted to just relax and have fun.
Needless to say, today's activities accomplished both their goals and those of many other students who wished to learn more ways of acting.
"[Chickspeare taught us] that we need a flexible mind. To achieve that, I realized what I said didn't even have to make sense, just don't hesitate," Nordyke said. "After the workshop I felt worn out from the activity and performance, but more interested in improv than ever."
Story written by Vivian Chiang and Emma Lam
About the Writer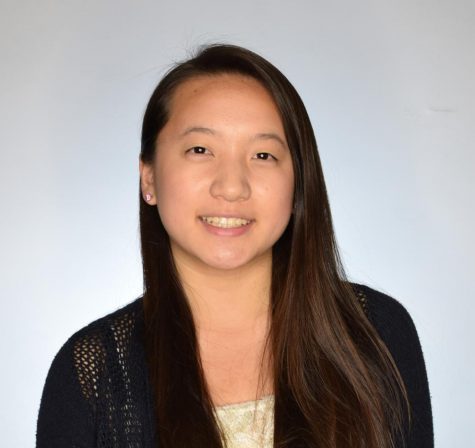 Vivian Chiang, Staff Writer
Vivian is a third year staff writer and former Features and Opinion editor on El Estoque. In her free time, she likes to make videos, listen to music, and hang out with friends.