Class of 2016: High School Musical movie night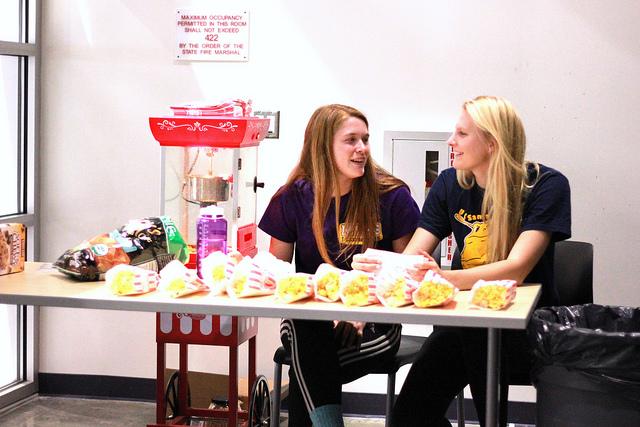 S

tudents have been bustling about setting up for homecoming, one of the most anticipated times of the year — for the seniors, it's their final one. This year's theme was musicals, and the seniors were given the fitting High School Musical. Senior class vice president Ahmad Ali-Ahmad had changed his name to Troy Bolton on Facebook, a main character in the musical, in preparation and excitement for the class's last homecoming rally.

On Friday, Oct. 9, as the lights dimmed and High School Musical played on the large screen, the excitement could be heard throughout the student union when a crowd of seniors burst into song at the start of the sing-along.

"This event was basically for our class bonding, and we really wanted to show this movie to get people hyped up for homecoming," senior class secretary Austin Chan said.

The officers had never done anything like it. As a result of Ali-Ahmad's suggestion for a movie night and much brainstorming, the outcome was better than they'd anticipated. With a turnout of about 70 seniors decked out in pajamas, sleeping bags and stuffed animals, HMS Movie Night, the first official class movie night for the class of 2016, was a success.

Photos by Justin Kim.
Senior class social manager Maddy Marten manned the popcorn stand, giving out free popcorn to anyone who approached.
"My goal for [this event] was just to have as many different types of people from different groups come and just enjoy time with their friends," she said. "It's really just bonding for our class since it's our last year together."
And of course, with new events comes new ways to improve. The event started at 7:30, making the students who came more expectant of better and more abundant food. Senior Neeharika Kadavakolanu came with her friends in hopes of being able to have a blast as well as a meal. Secretary Chan thought along the same lines and added that they would try to host a fundraiser beforehand in the future to make the movie night free and filled with various food options.
In the end, however, the class as a whole enjoyed the night, and looks forward to the next class event for their last year at MVHS.
"I think it went better than expected because a lot of people actually showed up and everyone had enjoyed it," Chan said. "There's a happy vibe here."