Breaking convention: Clubs donate revenue for Syrian Refugee Fund for the first time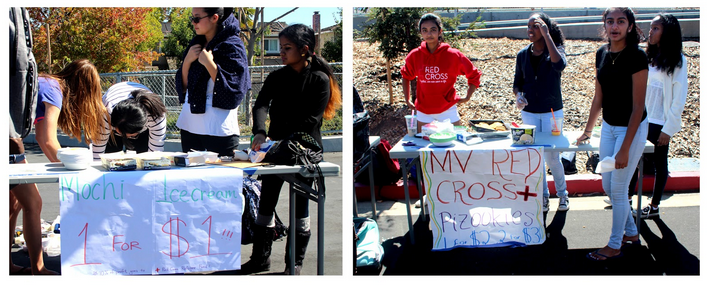 Club food day at MVHS has always been one of the most anticipated events on campus by clubs, students and staff alike. This year on Oct. 2, Community Commision offered a choice for clubs to donate ten percent of their profits to the Red Cross Refugee Fund.
For students looking forward to buy food on Club Grub Day, which clubs sell what food has always been trivial, as long as the food shows up. The food selection process this year has been slightly altered; clubs who agreed to donate ten percent of their profits to aid refugees received priority pick. This may be a motivating factor for some clubs to give up a part of their profit. As long as the money is still helping the refugees, the effort is worthwhile —  even if the motivation to donate may not be placed in the best interest of the cause.
While the priority for food choice may be a driving force behind the clubs' donations, the donations serve a different purpose to a variety of people. Community Commission's plan, dubbed as the "ten percent plan" by some, to get the entire school involved in a global cause has brought a sense of unity to MVHS. The choice to bring it up during club food day is timely. Certain clubs, such as Japanese Honor Society and Red Cross, feel an inclination to donate for the actual cause. Ten percent of the profits may not amount to a grand total, but the donations bring the clubs together and show that the school cares about current issues.
---
Why did your club donate?
Japanese Honor Society president senior Apanuba Mahmood
"I've been tracking the news of the Syrian refugee, and it's something I found personal to myself. I sympathize with them because they are escaping from a country to flee war, but there's a lot of misconceptions about it. A lot of the refugees are Muslims and I am also a Muslim, so I identify with them.
Many European countries are taking them in, but in comparision, America is not doing as much. If I can help just from here, that's a good thing, so that's why I want to donate some of our profit. Clubs make a lot of profit, so ten percent is definitely doable for people in the [Cupertino] area."
Red Cross club co-president senior Aaron Chen
"We already donate to the Red Cross anyways. Part of our proceeds from fundraisers goes towards disaster relief and the migrant situation. [In the past] We don't directly donate through our club food day profits
It's a good thing getting all the clubs involved. I don't know how much total it would make, but it is better than nothing."
How do you feel about the clubs donating to the cause?
Club food day committee member junior Riona Guha
"I think it's a really good idea. I'm glad we're taking initiative to promote better connections to the committee and try to help others. I know a lot of clubs donated for the incentive, but it's okay since we're still helping."
ASB Financial Technician Calvin Wong
"It's a good cause. Potentially, it will be a little bit more paperwork for me, but it will be done. It's just a couple of extra steps to figure out the finances."