Game GIFs: Girls water polo secures close victory over Homestead HS 10-8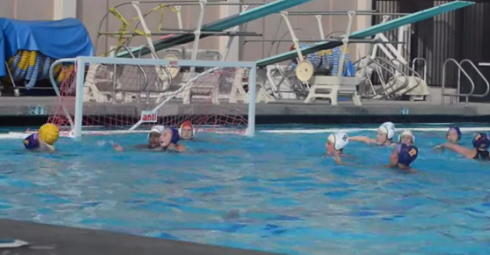 Stephanie Lam
October 4, 2015
Videos by Amanda Chan
When the Homestead HS team moved down this year to the Lady Mats league, the girls expected a tough game from them.
On Sept. 30, the girls water polo team played their second home game against Homestead High School. The girls were victorious over HHS, winning the game at a score of 10-8.
In the first few minutes of the game, a HHS player advanced on the MVHS defense and attempted to shoot on goal. Both attempts to shoot were blocked by goalie senior Hanna Severietti. Three minutes into the game, sophomore Sarah Tom scored the Matadors' first goal.
Within the first few minutes of the second quarter, Deacon aimed for the left side of the goal and made the shot. Deacon extended the Matadors' lead to 2-0, and the team used this early lead to set the pace for the rest of the game.
The Lady Mats were quick to defend their goal and keep the ball away from the oncoming HHS offense. A quick backhand shot from an HHS player minutes later gave the Mustangs their first point. The Lady Mats scored again minutes later, making the score 3-1.
Junior Vivian Hu attempted to shoot at the HHS goalie, but missed the shot and it bounced off the side of the goal. The Lady mats were able to successfully redeem the missed shots by scoring two more goals.
Moments later, HHS begins to catch up with MVHS. The Mustangs were able to shot consecutive shots into the MVHS goal, a result from MVHS tendency this game to bunch in the middle of the pool.
"I think [this game] we needed to work on spacing, because we kind of bunched in the middle [too much]," Hu said.
After a passing play, Tom got ahold of the ball. She shot the ball past the HHS goalie into the left corner of the goal and scored.
Continuing the Lady Mats' strong possession of the ball, sophomore Olivia Lassa took control of the ball. Lassa throws the ball into the left corner of the goal and extended the lead.
MVHS shoots again, adding another point to the Lady Mats. HHS is able to get another rebound and score, making the score 8-6.
In the 4th quarter Lassa gives a strong pass to Hu to keep the ball away from HHS players. MVHS passed accurately to each other, throughout the game, but sometimes were pressured by oncoming players.
"We were really frantic [ when passing], so if we calmed down a little bit we would have done better," Sophomore Lauren Tang said.
Tom takes a penalty shot without any HHS defenders around. She shoots it past the HHS goalie putting the Lady Mats up 9-6.
Five minutes into the fourth quarter, Deacon scores another point, making the score 10-6. In the last few minutes of the game, HHS scores two more goals. The game ended with a score of 10-8, with MVHS coming out on top.
Girls Water Polo has their next home game against Wilcox on Oct.6 @ 3:30