A changing city: This land was my land
T

aking a stroll down memory lane, we encounter rows upon rows of orchards in the expanse of a township that once was — the humble beginnings of Cupertino. Soon, we see townhouses, the Vallco Shopping Mall, Mervyns and other landmarks being built. Through the eyes of a growing town, we begin seeing growing diversity, growing population — and growing traffic as well. Today, in a city dominated by construction, we see relics of Cupertino's suburban past torn down and renovated. With these changes, it is undeniable that Cupertino's growth will raise an array of opinions, questions and concerns.
To people like business teacher Jeff Mueller, a MVHS Class of 1973 alumnus, Cupertino used to be a lowly countryside town rather than the bustling suburb we see today. He remembers the city as a farmland where he picked apricots off orchards and took them home to eat.
Some landmarks from Mueller's youth included Safeway, Cicero's Pizza and Cali & Bros., a majority of which have since then been replaced. Now, Mueller and his wife live in the peaceful countryside of Morgan Hill where they have few neighbors, a lifestyle of solitude contrasting that of the hometown of Apple's Headquarters.
For others, living in Cupertino was defined by a uniquely different lifestyle. Biology teacher Pooya Hajjarian, who moved to Cupertino at age 12, remembers it through the eyes of a teenager in the 90's.
"My buddies and I would have a Friday night ritual. We'd go and rent a movie from Blockbuster, go to Lucky's and grab snacks," Hajjarian said. "Then [we'd] go to someone's house and watch movies."
"I know friend's sister, she bought a house in the 90's when the housing market was pretty hot, and paid $500,000 for it. I thought 'Gee, she's never gonna get her money back. Now it's worth $1.5 million."
-Industrial Technology Teacher Ted Shinta
Today, Lucky's and Blockbuster are long gone. Even so, one of the things Hajjarian appreciates most about Cupertino's changing landscape is its diverse food choices.
"Now if you are hungry, you have so many choices," Hajjarian said. "There was no Islands, no Ike's, no Panda Express, so it's kind of neat seeing how many options you guys have if you want to go out for lunch."
However, Cupertino's landscape is not the only thing that has changed over the decades. Industrial technology teacher Ted Shinta notes a growth in Southeast Asian and Indian populations over the years and believes that the shift in racial diversity is for the better.
"I grew up being a small minority," Shinta said. "You get teased and stuff, but to me I just accepted it as part of living here. Now, it's very Asian, so you don't feel that much different."
Shinta also notes the skyrocketing housing prices that have taken place in Cupertino since his youth.
"I know friend's sister, she bought a house in the 90's when the houseing market was pretty hot, and paid $500,000 for it. I thought 'Gee, she's never gonna get her money back,'" Shinta said. "Now it's worth $1.5 million."
To all three teachers, there are drawbacks to Cupertino's construction, higher costs of living, and increased population size.
Hajjarian, who lives in the Santa Cruz mountains, faces traffic regularly. Despite this, Hajjarian thinks Cupertino's growing trend will continue, especially with MVHS being among America's top schools. Mueller, however, believes otherwise. He thinks that the infrastructure cannot sustain any more growth and that it is only a matter of time before resources like land run out.
One thing all three teachers agree on is that they will miss the old Cupertino in one way or another.
Shinta reminisces his days riding his bike aroundthe city he calls home, Hajjarian misses being able to find a spot at the Cupertino Library, and Mueller reminisces the modest size of his hometown. While these memories may be dismissed by others as "trivial," they stand as momentos of Cupertino's older days.
"When I was here, nobody really knew where Cupertino was," Mueller said. "Now Apple has put us on the map."
About the Writer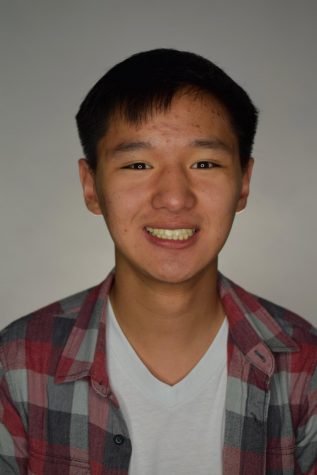 Daniel Lin, Staff writer
Lin, a senior and third-year staff member of El Estoque, serves as Webmaster for elestoque.org. Lin was Copy Editor and Special Report Editor in 10th and 11th grade, respectively.