Linked to help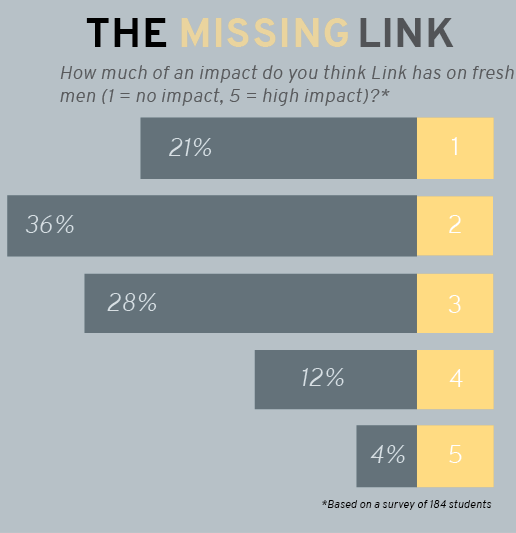 Maya Murthy
September 23, 2015
Story by Amita Mahajan and Maya Murthy. Video by Om Khandekar. 

A

s a class of incoming freshmen stumbles blindly into the MVHS gym for the first time on Aug. 11, they're immediately greeted by a disorienting blast of cheers accompanied by rows of smiling faces and waving hands. Link leaders anchor the anxious masses, herding groups towards tables with name tags and into the stands for their official induction into high school.

Freshman orientation is oftentimes a student's first encounter with MVHS and their first encounter with Link leaders. While Link leaders are known for their work during the beginning of the school year, their new focus on freshmen academics has led to the creation of several new policies.

"We worked on [dances] and having Link Crew leaders talk to freshmen more," Link Crew advisor and Assistant Principal Mike White said. "Now we're trying academics."

The year's goal is to help freshmen who are failing their classes or receiving either a D or an F. By focusing specifically on F's, White hopes to reduce the amount of students dropping courses, as well as out of the school itself. According to a study by the University of Chicago, the number of freshman students who fail classes correlates with that of students who drop out of high school.

"If we keep three kids from dropping out, that's amazing," White said. "We don't have a huge problem, but we have a problem. And let's address it."

According to Assistant Principal Ben Clausnitzer, approximately 10 percent of students on campus receive at least one D or F as their overall semester grade. The program may expand in the future to target D's as well. This would keep students on track to college eligibility, as to colleges, a D is not recognized as a passing grade in a high school course.

THIS YEAR LINK LEADERS will be helping their students avoid F's. However, as the system is new, White is unsure of what an intervention would look like.

"One of the ideas that we have out there is that Link Crew will man tutorial," White said. "My hope is Link Crew leaders will say, 'Hey, you're not doing well in Biology. Let's meet at lunch.'"

Link leaders already organize tutoring sessions, usually before first semester finals, but White feels that these are too last minute. In addition to adding extra sessions, Link leaders are encouraged to use their bond with students to encourage them to seek help.

"We're trying to encourage them to…come to us if they have any problems," senior Aishwarya Natarajan, a Link leader, said. "I think that's really the whole point."

Link leaders like Natarajan often establish strong connections with their groups and in the process, find that students are more willing to ask for advice without prompting.

"Once in awhile, you'll get a kid that comes up to you and is like…'I don't think I'm doing so well. Can you please help me?'" Natarajan said. "And I think that's when you step it up."

In Link Commissioner senior Mark Geha's experience, the first step in a student intervention often is approaching the teacher.

"We approach the teacher, see what's going on, if the kid is just being lazy," Geha said. "Then we'll just slowly get in and be like, 'Hey, how's it going? Haven't seen you in a while, tell me what's going on.' It's not gonna be like, you come up to them and [say], 'You need to do better!'"

In addition, Natarajan offers blanket advice spanning from scheduling templates for finals studying to offering to tag along when a student speaks to a teacher. Natarajan and other Link Leaders like her try to keep in contact with their group, in an effort to remind students that they are available.

"I give my Link kids my number," Geha said. "When I see them in the hallway,we actually have a conversation. It's a professional-friend type thing."
WHILE GEHA AND NATARAJAN are able to connect with most of their groups, many freshmen lose contact with their Link leaders after orientation. This lack of connection has the potential to make the year's focus on freshman academics awkward.
"I don't think [asking a Link leader for advice] would occur to me…because I have someone who's close to me and kind of knows me better," freshmen Advika Varma said. "I would probably not think to go to a Link leader."
If failing students don't ask for their Link leaders' assistance, Link leaders have the option of asking White, who gets a grading report that shows which students have D's and F's and can then inform the respective Link leader. While White can notify Link leaders if their freshmen are struggling, by law he is not allowed show a student's transcript to other students.
Freshman Jessica Zhu sees the benefits in the system, especially due to the unfamiliarity many freshmen feel with their Link leaders would make having a conversation about grades easier.
"I think the policy is pretty great because if you're failing a class, you usually don't want to tell anyone that you're close with. You want somebody who could actually help you," Zhu said.
For the most part, White hopes to rely mainly on teacher recommendations to find struggling students. The freshmen's teachers can provide White with a list of students who are failing the course upon his request.
By targeting all freshman teachers, White hopes to have a comprehensive idea of the students in need of the most help and the subjects for which Link leaders can provide assistance.
Link leaders have taken nearly every class in the school, allowing the Crew to have a tutor for any freshman who needs help.
While some students seem receptive to the idea, students who don't feel comfortable approaching their Link leaders, or who refuse help, will simply be left alone.
"If the student doesn't reach out, then we'll reach out to them," White said. "But if someone comes and doesn't want help, then you can lead a horse to water, but you can't make them drink… we'll do our best, but if you choose not to let us help or take advantage of it, we're kind of stuck."
DESPITE THE NEW FOCUS, White insists that much of Link will remain the same — there will still be dodgeball tournaments and carnivals. Attempting to help failing students will simply be an added responsibility for Link leaders as they help guide their groups through their freshman years.
"If we had a freshman who was failing a class," White said, "and we intervened and our Link Crew leaders were able to do these interventions, and by the semester [the freshman was] passing…that's a big thing."