Ready, Set, Go! Teachers get ready for the school year ahead
LEARNING AS A TEACHER
"Is it cheating when I take stuff from other teachers?" Literature teacher Randall Holaday asked.
This is Holaday's first year running his very own classes and he has reached some unexpected hurdles and surprises as a new teacher in MVHS.
"It was funny because I knew that I was hired in May," Holaday said. "They told me that I was teaching freshman, but they didn't tell me I was teaching British Literature until like a week [before school]. Finding that out was a really conflicting experience for me, but overall it was happy and exciting."
He has been accumulating materials and posters to bring to his classroom since May, and they have taken up half of the space in his bedroom. When the time finally came to move into his classroom, a week before school started, he drafted his cousins to help out. But, what seemed like a lot of stuff in his bedroom looked pretty bare in his large classroom.
"I've definitely got this corner down," Holaday said. "I'm still working on the other corners, though."
According to him, there is still a lot more he must get adjusted to, including the "brutal" Tuesday block mornings with only a five minute gap between the first two classes of the day, but MVHS' staff has been more than accommodating and helpful. They have checked in with him and provided him with resources to help him during the school year. The only difficulty for him is putting his own spin on it, like allowing each of his classes to draft their own class expectations on their green sheets.
Along with these struggles, Holaday has dealt with the classic beginning of the year hurdle of learning new students names. He has had a significant amount of trouble with new names that were less common than at his old school Menlo Atherton. One particularly embarrassing event was when he was trying to call two boys into class, but ended up calling them both by a girl's name.
But, despite his tough start, Holaday is getting used to MVHS, and teaching doesn't feel like work when he gets to meet new students because that's what he really enjoys.
"It's not that glamorous," Holaday said. ¨I go into the car on my way home not knowing what my plan will be, but by the time I reach my house I have a plan.
HISTORICAL REINVENTION
It sits in the back of the class, on a small table. During class time, it is generally unnoticed, but if you look at it once, you cannot look away. First, you realize its general wooden grain. Then, you realize what it is, and you're taken aback. What it lacks in size, the replica makes up for in its intricacy—the wooden guillotine.
After a fun summer of rapid traveling, history teacher Robbie Hoffman prepares to settle into the new school year. Hoffman spent the two weeks before school started getting ready for what seems to be his most hectic year yet because of his six classes.
"I just do a few things at a time," Hoffman said. "I start early enough so that I am not overwhelmed. A few weeks before the school year starts, I try to wake up a little earlier to get my body used to actually getting up in the morning."
Hoffman has also found an interesting way to decorate the classroom himself.
"I like to build out of wood," Hoffman said. "I like to build a lot of tables. If there is something in my classroom that I want and I can't get it from the school, I'll just build it".
Hoffman uses his skills not only for aesthetic decoration but for practical purposes as well, signs of which can be seen across the classroom. He has made many of the wooden tables himself which he then uses to hold essential classroom items.To spice things up, Hoffman also created a wooden guillotine, which adds to the historical feel of the class.
"I [build] in my free time" Hoffman said. "Some people like to paint, some people like to knit. For me, I like to do something practical that is also fun to do, so I [build]".
AVID ADVENTURES
AVID teacher Sara Capule's school year preparation started three weeks before the school year in a somewhat unexpected place: San Diego.
"[The AVID 9 Conference that I went to] was just a really good conference about good teaching," Capule said. "It helped me ease into the school year."
The conference signified Capule's first year teaching AVID. It gave her not only the opportunity to sharpen her teaching skills, but also time to spend with her colleagues and fellow AVID teachers.
Capule's drama background over her last two years teaching helps her better understand the value in teaching AVID and how important it is to form bonds with each student. She makes a real effort to make sure that the class truly gets to know each other as the school year progresses with games and activities like a balloon pop activity, where each student puts a fun fact in a balloon and they pop one everyday to get to know each other better.
"There's a lot of similarities with the communities that I build with my drama classes and the community that I build with my AVID classes," Capule said. "You get to follow students who take AVID all four years, and, a lot of times, students who take drama take it all four years, so you really get to have that relationship."
Every year, she enjoys returning to her partially-inherited classroom with headshots of past students and a giant rainbow pace poster [peace in Italian] on the wall to build more relationships with students.
"
"I'll miss sleeping," Capule said, "but you know you have to let that go.""
The beginning of the year is always super exciting for Capule. The only thing that she really misses about the summer is playing with her dog Emy, named after the famous Amelia Earhart.
On the night before school, Capule laid awake in bed, too excited to go to sleep, but worried that the next day she would be too sleepy to bring the excitement for her students. However, she knew that on the first day of school, adrenaline would get her through. After all, it's a whole new year of student headshots to put on the wall.
Co-reported with Miloni Vora.
About the Writer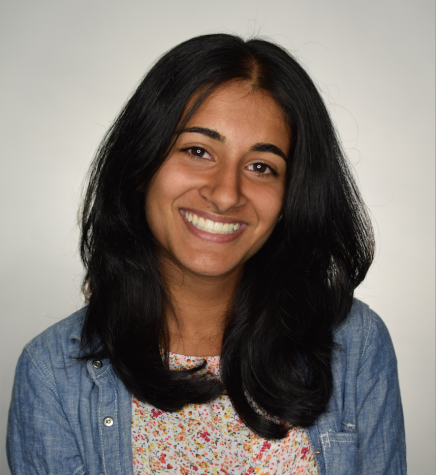 Akshara Majjiga, Staff Writer
Akshara Majjiga is a senior and third year staff member for El Estoque. She has formerly served as Managing Editor and Sports Editor.