Track and field: Subteams gives players specialized attention respective of their events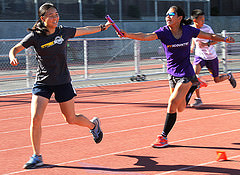 Avni Prasad
March 25, 2015
A team of 110 student athletes filed on to the upper field on March 10. Some traded their soccer cleats for running spikes, while others their baggy basketball jersey for a tight purple running shirt. They were no stranger to sweat — but as they stretched on the bleachers, coach Kirk Flatow pointed out there's something unique to track and field. 
"Coaches tell you what to do in every other sport," Flatow said. "But in this sport, you can't ask your coach to [substitute] you out. You can't call a timeout in the middle of this game if you are not doing well. Can you?"
Amongst the vigorous no's, one athlete said "I wish."
"Track and field is one of the most independent games," Flatow said. "You guys are given that responsibility. You guys are given that control."
Despite the independence demanded from this sport, the coach makes an effort to emphasize the value of a team connection.
"As an athlete competing in individual events, it can get very lonely," senior Nicole Phan said. "It is important that we show support for each other, so when you are competing you know someone has your back."
At every practice, the track and field team splits up into subteams for each events. Check out an overview of each subteam and a behind-the-scenes look at their practices.
The Distance Team
---
Distance and Head coach Kirk Flatow:
Practice activities: The distance runners begin with dynamic stretches like front lunges, straight leg kicks and walking knee hugs. Stretching is followed by a one and a half mile warm up run around the school. On March 10, the warm up run is followed by the 5.61 mile practice run around Stevens Canyon. Some runners run extra after practice.
Players to look out for:
Sophomore Kelly Bishop runs in the footstep of her brother 2014 alumnus Kevin Bishop. Kevin set MVHS boys 800-meter dash and mile record his senior year. Kelly set the MVHS girls 800-meter dash at 2:15:08 and is on her way to setting the girls mile record.

Senior Jenny Xu, as described by Head Coach Kirk Flatow , is the "superstar." She currently holds the record for MVHS girls mile time. Photo by Avni Prasad.
Senior Rohan Choudhury is currently the fastest long distance runner on the MVHS track and field team.
"He knows how to win," sophomore Paru Meyyappan said. "First, he'll choose who to tailgate and then in the last 200 meters he break into a sprint." Photo by Avni Prasad.
 The Hurdles Team
---
Hurdles Coach Raymond Cornell:
Practice activities: They know better than to jump right into hurdles races — they progressively work their way up to tackling the hurdles. First, they stretch. Then, they align the hurdles no more than a foot from each other and walk over the hurdles, conscious of their head position and hand-leg coordination. The hurdles team usually practices at De Anza College, since coach Raymond Cornell also coaches the De Anza College track team.
Player to look out for:
Senior Albert Han shows attentiveness during practice. Han joined the team his freshman year, making him one of the most experience hurdlers. Photo by Avni Prasad.
The Sprints Team
---
Sprints coach Leah Tapscott: 
Practice activities: In addition to practicing relays, sprinters focus on strengthening their thigh muscles. In one activity, all the sprinters remained in the table position and in a circle, one by one, a sprinter would rise then return back to the table position. Some rose quickly, sympathizing with the pain everyone else felt, while others rose painfully slow as everyone else cursed at them.
Players to look out for:
Senior Rochish Ambati is, as coach Leah Tapscott puts it, a "born leader." A clear role model to other sprinters, Ambati is a part of 4 x 100-meter relay and one of the fastest MVHS sprinters. Photo taken by Avni Prasad.
Freshman Mikey Sakellar started off his track and field high school career strong as he is one of the fastest sprinters and distance runners already. He was recruited for the 4 x 100-meter relay, which is typically filled with seniors.
"He is the prodigy," said Tapscott. "Everyone is excited to see what will come out from him because he truly has the capacity to be one of the best [runners] ever."
Photo taken by Avni Prasad.

Sophomore Anella Palacpac is one of the fastest girls in sprinting. In the previous season, she was on the JV girls soccer and won sophomore of the year. Photo taken by Avni Prasad.  
 The Jumps Team
---
Meet Coach Rick Blomquist:
Practice activities: Before they tackled the high jump pit, the team stretched, warmed up with sprints and measured their steps to the mat. Coach Blomquist prepared tiny cones in a circle for high jumpers to run around. This exercise prepares the arched run required before jumping over the high jumping rod. One runner passing by said, "Don't you guys get dizzy?"
Blomquist emphasizes how important it is to overcome the fear of jumping over the rod.
"It is not natural to jump backwards with an arched back," Blomquist said. "Very few people can do it without being scared. That's the hardest part — conquering that fear."
Players to look out for:
Senior Sanjna Bharadwaj is currently recovering from an ankle injury. Coach Blomquist has full confidence that this year, her fourth year, Bharadwaj will break five feet. Her current record for high jump is four feet ten inches. Photo by Avni Prasad.
Freshman Mahima Shanware gracefully leaps across the field for high jump warm-ups. In addition to participating in track and field as a hurdler, Shanware is a member of MVHS Dance Team.  Photo by Avni Prasad.
 The Throws Team
---
MVHS does not have a Throws coach. Students who are interested in participating in throws events are offered to go to Fremont High School on Mondays and Wednesdays to practice with their coach.