Food: Mod Pizza, the closer, friendlier alternative to Pieology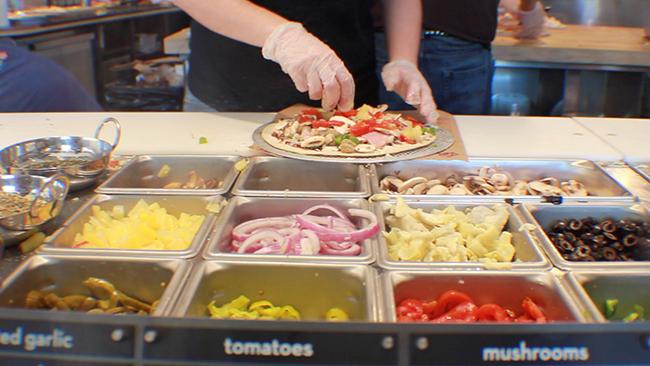 Vanessa Qin
February 23, 2015
MOD: Made On Demand. The name of this newly opened pizza spot holds true to the fast-paced, personalized nature of the restaurant's assembly line. MOD opened up in late December of 2014, across the street from Westgate Mall in San Jose, offering a surplus of sauces for your pies, unlimited toppings to satisfy your indecisive tendencies and smiling staff to welcome your entrance to your sodium-packed guilty pleasure of the day.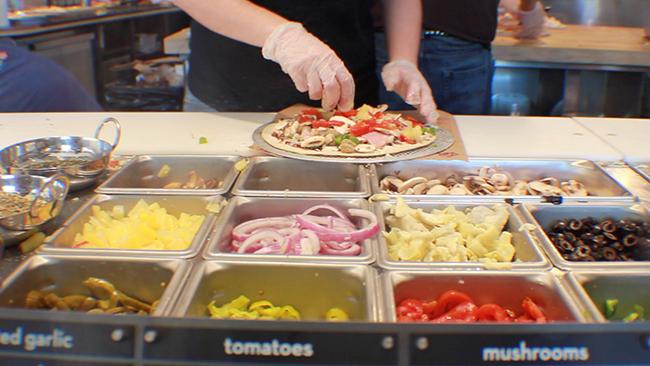 Here's a breakdown of the place: It's like Subway or Chipotle, but for pizzas. The most popular entree of choice is a classic pizza, or "pie" as the workers call it, while sides, salads and pizza-styled desserts and milkshakes round out the menu. Boasting unlimited toppings on a personal sized pizza with a fixed price ($7.87 for an 11" personal pizza, $4.87 for a mini, and $10.87 for a mega), MOD is almost exactly like Pieology, if not better. The moment you enter the restaurant, you're greeted with an assembly line of smiling workers and a laid-back, "chill" environment. The workers were very comfortable and determined to make every customer's experience a good one by making light-hearted conversation and joking around with customers while making their pies. As the workers were making my pizza, they patiently assisted me with my indecisiveness and gave me recommendations. Furthermore, the aesthetic is very much in line with the bold, flat design trend, pleasing to the eye of any design appreciating customer like me.
"What's your MOD?"  Although the restaurant has a menu of pre-made recipes for those who don't want to spend time deciding what to put on their pie, I went with the customization. For me, it was a classic MOD size pizza: 11 inches of food-coma inducing goodness. I started with BBQ sauce on the thin crust pizza with mozzarella cheese, and added spicy italian sausage, grilled chicken, canadian bacon, green bell peppers, roasted red peppers, pineapples and mushrooms, topped with croutons at the end. The best part was the staff didn't even question me for wanting croutons on my pizza. After paying and sitting for a few minutes, my pizza was sliced and served fresh out of the oven. The pizza wasn't absolutely stellar, but definitely worth the $8. It wasn't excessively oily and the fresh-looking toppings were generously spread across the pizza, complementing the crunchy thin crust.

The verdict: Now that MOD is so close to Cupertino, there's no need to drive all the way to San Jose for Pieology — MOD pizzas are equal to Pieology's pizzas in quality and price, while the location is easily accessible and the staff is friendly and welcoming. Granted, I didn't go during a busy hour, so I didn't experience too long of a wait. While this isn't a place I would go to everyday due to the sodium-packed nature of the food, the friendly atmosphere of MOD makes for a great place for a nice lunch with friends.