Girls soccer: MVHS defeats Lynbrook High School 1-0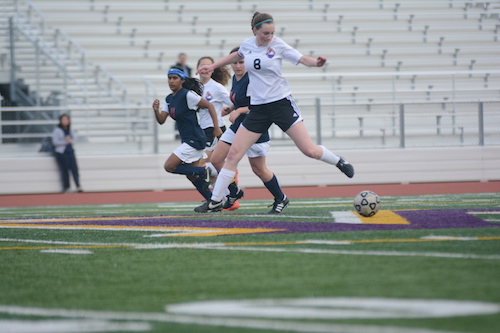 Varsha Venkat
January 20, 2015
Running as fast as she could, team captain junior Alissa Paterson kept her feet with the ball and eyes on the goal. After many missed shots by both MVHS and opponent Lynbrook High School, this run seemed like yet another scoring chance that would end without a goal. But Paterson dribbled the ball past the last LHS defender and with a clear view of the goal, she shot the ball straight into the goal putting MVHS up 1-0.
"[The LHS] defense stayed pretty high," Paterson said. "When I saw the ball coming, I knew [freshman Nina Biondi] was going to send it to me, so I started running. I got past the defender and shot."
Despite a relatively slow start to the first half of its game on Jan. 15, the girls soccer team managed to score and maintain its 1-0 lead throughout the second half, with strong defense and blocks by team captain and goalie junior Monica Polgar.
LHS made the first attempt at a goal two minutes into the game and missed the shot. The Vikings had multiple chances to score throughout the game, but often narrowly missed the goal — with the ball sometimes barely sliding over the post.
The game remained tied at 0-0 until the Matadors' goal, though the Vikings maintained possession of the ball for much of the first half. Despite these setbacks, MVHS managed to keep LHS from scoring.
"I'm like the target player, so everyone tries to get the ball to me and I wait for people to come up field with me," Paterson said. "That's how we start the attack."
The team also tried to anticipate where the ball would be passed. Junior Shreya Swaminathan, a forward on the MVHS team, said that she has worked on getting the ball, passing back and making runs. In relation to the team, she finds that the players understand each other's playing styles better, boosting the team performance.
"[Our strategy] was mainly to be in possession of the ball, to be first to the ball," junior Shreya Swaminathan said. "I think we worked well this game — this was our first win for the league."
Although the team has improved in anticipating where the ball will be passed, the players believe that there is still room for improvement. Paterson said that the most important technique is its on-field communication, which has improved throughout the season.
Much like Paterson, Head coach DJ Driscoll recognizes that the team has improved considerably and is proud that their effort is paying off.
"We played great," Driscoll said. "We just adapted to how they played, scored a goal and put pressure on them. It was fun to see that we haven't had luck, we've been playing well, so it was nice to get a win out of it."