Junior David Wang part of top 20 high school chemists in nation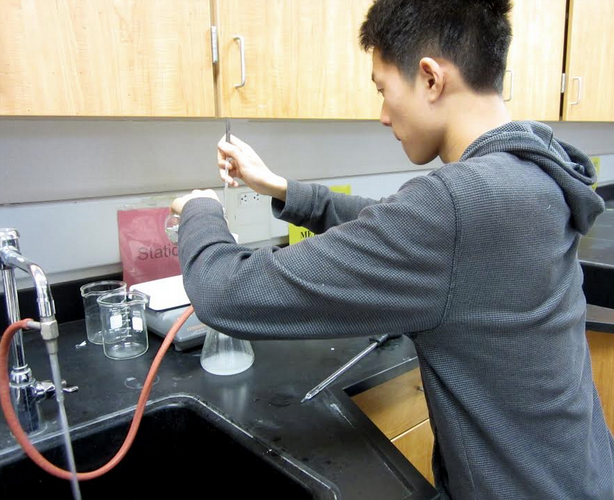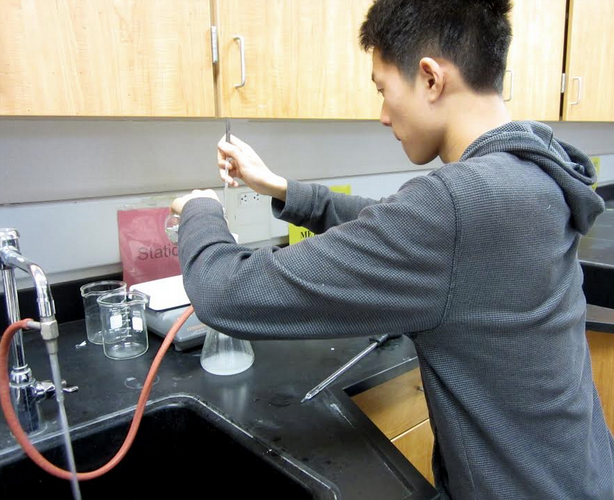 [dropcap1]J[/dropcap1]unior David Wang is just about as close as you can get to a mad scientist here on campus. He has accumulated a wide variety of chemicals in his garage that he experiments with in his free time. When he talks about chemistry he speaks without falter as though he cannot contain his love for the subject. No wonder he's been named one of the nation's top 20 high school chemists by the Chemistry Olympiad.

The Chemistry Olympiad is an annual exam hosted by the American Chemical Society and is administered at the local, national and international levels. The top two students in each local district proceed to the national level, where the top twenty students are selected for an all-expense-paid study camp at the U.S. Air Force Academy in Colorado Springs, CO in preparation for the international competition. In July, Wang will be joining 19 other students at the Academy in preparation for the international qualifiers.

Wang's passion for chemistry began during his sophomore year, while he was taking chemistry teacher Mia Onodera's Chemistry Honors class. He had a general interest in the subject, but what inspired him to take on the Chemistry Olympiad was Stephen Ting, who qualified as one of the top 20 chemistry students in his junior year. Wang credits Ting as his primary inspiration to participate in the Chemistry Olympiad. Since Ting was someone Wang knew from cross country, Wang began to believe that qualifying as one of the top twenty was not entirely out of reach, but a very tangible possibility.

"A lot of things you see people do, you think, 'Oh wow, that's pretty cool,' but you don't think of it as achievable," Wang said. "But after I heard about [Ting] I thought, 'Oh, maybe I'll try that.'"

Beginning in the second semester of his sophomore year, Wang began preparing for his first Chemistry Olympiad test by reading and studying the entire Chemistry Honors textbook on his own. He then proceeded to study the AP Chemistry textbook nightly, while still taking Chemistry Honors.

"The main reason I like chemistry is because it's tangible and it affects the world we are in," Wang said. "I'm a very tactile learner. I like seeing things happen. I like labs."

AP Chemistry teacher Kavita Gupta noticed Wang's passion for chemistry well before he entered her class in the fall of 2013. Wang had begun studying for the Chemistry Olympiad regularly with a group of students during his sophomore year which included Ting. During these sessions, Wang and the rest of the study group met regularly to work on labs and discuss concepts in preparation for the test.

"I kept his love for chemistry alive," Gupta said about her role in Wang's preparation for the test. "I supported him doing the labs and made sure he set them up correctly. I was a guide."

Wang now hopes to work hard at study camp in Colorado and hopefully qualify to represent the United States at the international Chemistry Olympiad competition in Hanoi, Vietnam.