New standardized testing improves academic assessment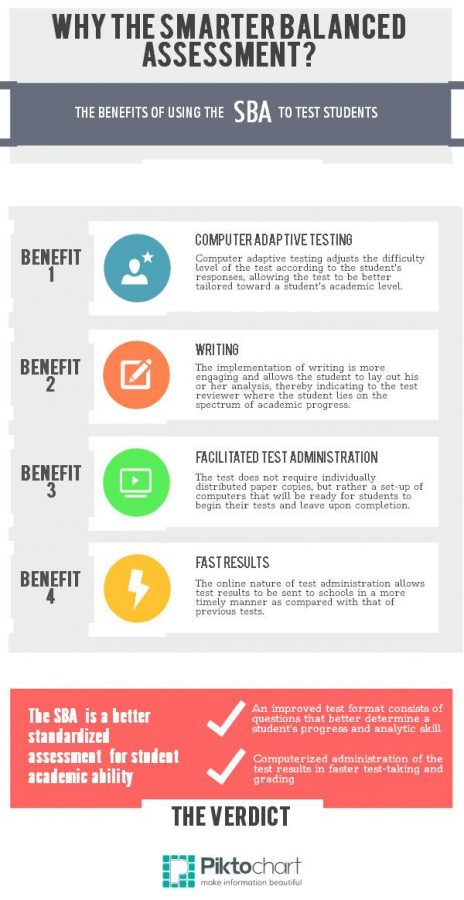 The Smarter Balanced Assessment with its computerized new format is a better option than previous standardized tests.
Early in the morning of testing day, the bleary-eyed juniors of MVHS made their way to school and wearily shuffled into a classroom filled with computers. After the initial confusion of seating arrangements, the students found their places and sat down in front of a screen, waiting to receive further instructions. Some students momentarily forgot any grievances against the forced testing (such as missing late start on Wednesday) when they saw a set of yellow earbuds in front of their computers that would be required during the listening comprehension sections of the test. Without any need to bubble in the letters of their names on an answer booklet, the students began the new Smarter Balanced test. The test proved to be a simpler, more efficient examination. There was no need for students to wait idly for other students, manually turn pages and fill in remaining bubbles or for teachers to collect papers. Students could think critically, type in written answers and, upon finishing, simply stand up to check out with the proctor and leave to go to their classes, therefore wasting less time.
MVHS juniors should not be too indignant at being guinea pigs for this field test, [quote_right]The Smarter Balanced Assessment is ultimately an improvement over previous standardized tests[/quote_right]as they were guinea pigs for a good cause. The Smarter Balanced Assessment is ultimately an improvement over previous standardized tests, as it more effectively determines whether the students are successfully learning critical thinking skills and also proves to be an efficient testing process.
The new standardized testing, officially known as the Smarter Balanced Assessment (SBA), was designed to replace the STAR test and reflect the new Common Core State Standards. Standardized testing was cancelled for schools during the 2013-2014 school year, with the exception of schools that participated in the SBA's field test. MVHS agreed to be a participant and in the week of April 21, its juniors took the English Language Arts and Mathematics sections of the test, along with an applied math section that dealt with triangular geometry using roofs.
With technological advancements and innovative programs saving more of our time, standardized testing should also modernize and implement new technology to improve both testing speed and student assessment. The SBA reflects the potential technological benefits; its computerized adaptive and interactive format allows students to be evaluated more in terms of their personal skill level and analytical ability while additionally enabling tests and scores to be instantly exchanged electronically.