Student activist Mary Beth Tinker to speak at MVHS on April 2
Tinker tour brings civics education to students around the country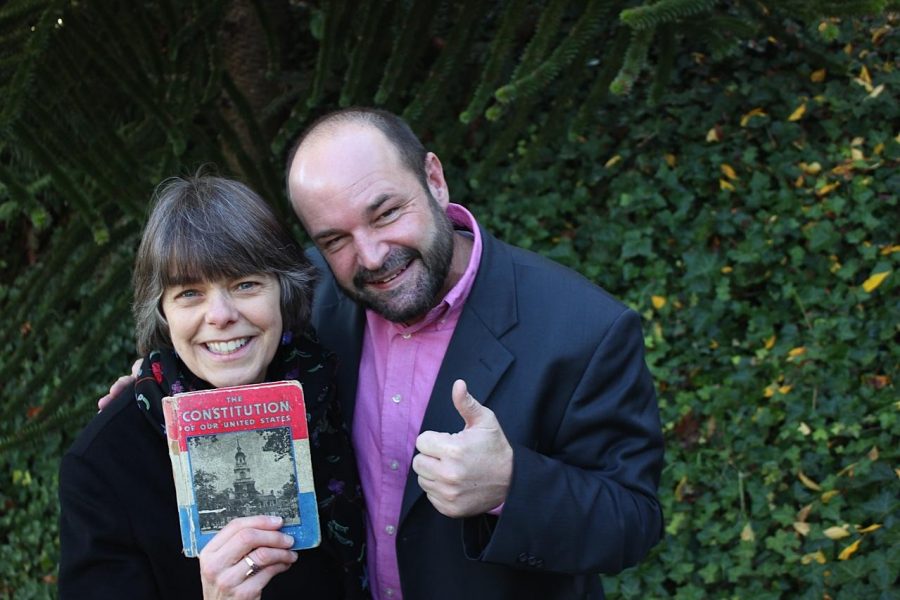 Used with permission of The Tinker Tour
Updated on Mar. 30 at 12:17 P.M : An earlier version of this article misstated the given name of the retired advisor of the The Epitaph. His name is Nick Ferentinos, not Nick Ferentino.
Updated on Mar. 17 at 10:52 P.M: An earlier version of this article said that Frank LoMonte was a former staff attorney for the Tinker Tour. He is the Executive Director of the Student Press Law Center. Said version also misstated the given name of the deceased Saratoga High School student who was a victim of sexual abuse last year. Her name was Audrie Pott, not Audrie Potts.
On April 2 from 11 to 12:30 p.m, former student activist Mary Beth Tinker, as well as Frank LoMonte, Executive Director for the Student Press Law Center, will be speaking at the MVHS auditorium as part of a panel on free speech and its impact on students. Also on the panel are Nick Ferentinos, a retired advisor of the Homestead High School student newspaper The Epitaph, as well as Cristina Curcelli and Sabrina Chen, two of the three student reporters from Saratoga High School who were subpoenaed earlier this year by the lawyers of the Audrie Pott case.
Tinker and LoMonte will be speaking to students as part of the Tinker Tour, which started at the National Constitution Center in Pennsylvania, and has traveled 15,595 miles across the country to try to inform students of their civic rights.
In 1965, when she was 13 years old, Tinker and several other classmates decided to protest the Vietnam War by wearing black armbands adorned with white peace signs to school. Administrators at Warren Harding Junior High — located in Des Moines, Iowa — then proceeded to suspend Tinker and four other participating students after they refused to remove the armbands. Tinker cited a violation of free speech against the school board in response.
The students eventually sued the district, and the case of Tinker vs. Des Moines went to the U.S. Supreme Court, where the decision was ruled 7-2 in Tinker's favor. It was in the U.S. Supreme courtroom that the phrase, "…students do not shed their constitutional rights at the schoolhouse gate," was famously uttered.
Against the Des Moines school district and the outraged public, Tinker became the blazing symbol for youth activism and students' First Amendment rights.
On April 2nd, not only will Tinker relay the story of her battle for First Amendment rights, detailing her journey towards youth empowerment — but she will also lead a roundtable discussion. There will also be time for autographs and pictures. The presentation will require participating students to submit an official field trip form since they will be missing a portion of fourth period.
Students can follow and participate in coverage leading up to and on the of the event by using the hashtag #tinkerthinker as well as the official Tinker Tour handle #tinkertour on Facebook, Twitter, Instagram and Tumblr.