Senior Ryan Manley currently plays volleyball for Monta Vista High School and the club team Mountain View 18 Reds as an outside hitter, having played the sport since 6th grade. While he also played as the Monta Vista quarterback in the past football season, Manley prefers volleyball for many reasons, starting from his rather late introduction to the sport.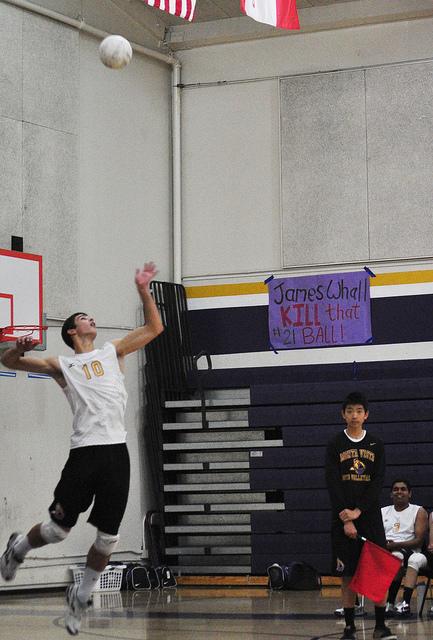 El Estoque: How did you decide to play volleyball?
Senior Ryan Manley: Originally in middle school, I was between cross country and volleyball because my brother had always done cross country, and he was pretty good. I basically had to decide whether to compete with him at cross country or go my own way and do volleyball and try something new that nobody in my family had done. I was also tall from the beginning and huge for my age and decided that I might as well try more volleyball. After I started playing a lot, I felt like I was pretty good: a lot of people couldn't do the overhand serves, and I could. After my team won in seventh grade, I was hooked. Volleyball has ended up being the most fun sport I have played so far.
EE: How do you feel you have recovered from your loss to Homestead last year in CCS?
Manley: Since that was the last game of the season, I moved to club, and many of the members of the Homestead team were on my team, so if I had held that against them or kept being mad, it would have hurt our whole club team, and that wouldn't be helpful to anyone. It was the end of the season; that's just how it went. I tried to forget about it and move on.
EE: What plans do you have for this season?
Manley: I believe the top three teams in CCS are Mountain View, Homestead and MVHS. As long as we can stay at the top, we can perform well in CCS. We've never made it to the semifinals, but I think that this is the year that it should be done. Our goal is obviously to make it to the championship and win, and then go on to NorCal. I think if we can make it to NorCal, we have a great shot because CCS is a very hard division.
EE: Has playing football improved your volleyball play at all?
Manley: Football is really a whole-team sport. You can't play without the whole system working together effectively. That made me realize that volleyball can be an individual sport in some ways: If you set only to one person, he can get you the most wins. However, the way the system works best is when all the players are able to do their jobs. I think that playing football has allowed me to realize this more easily. Everything works as part of an intricate chain: If you don't get a good pass, you can't get a good set; if you don't get a good set, you can't get a good hit. If the whole team doesn't work together, you can go far, but you will never be able to be consistent.
EE: What do you think is the allure of team sports versus individual sports?
Manley: I actually get down on myself a lot, and I have a very varied playing style. I'm not the most consistent player, so when I play poorly, I get really mad. The only thing that can get me back up playing is seeing my other teammates having fun and doing well, and that just snaps me out of my mood right then. If I were playing alone, I would just be swearing at myself the whole time, telling myself that I suck, and I wouldn't be able to pick myself out of those ruts. Teammates help you do that. Even though you have to be responsible for your teammates if they mess up, overall I think it's beneficial to play a team sport.
EE: What are your plans for college?
Manley: [UC] Santa Cruz offered me a spot on their team recently, but there are no perks involved and no guarantee. I didn't decide to sign with them, and I'm looking at other schools. I'm not dead-set on volleyball in college. If I get into a strong academic school which doesn't have a volleyball team, I'm fine with that. I'm not going to a college for volleyball. I just want to go to a great school, and if volleyball is there, that's an added bonus.