Karate Kid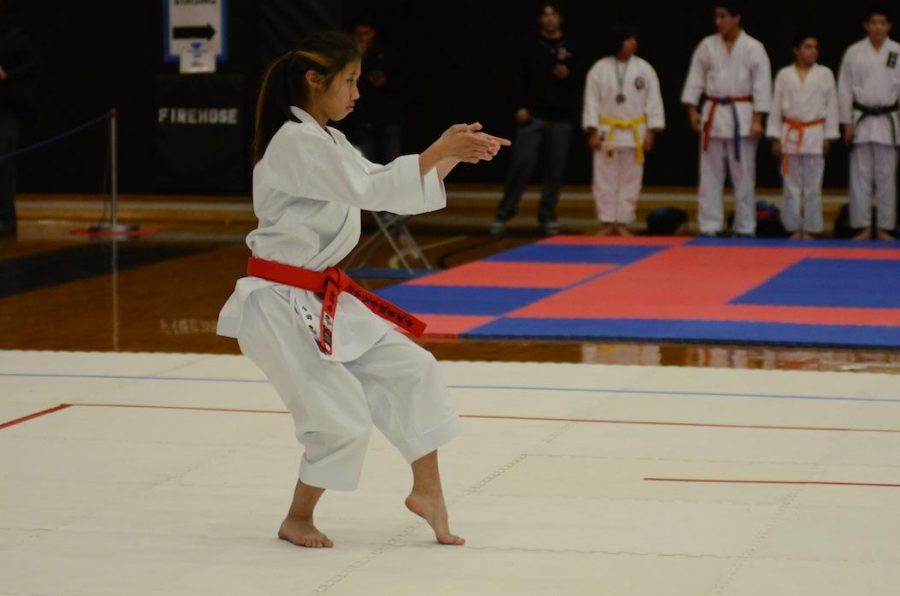 Rhonda Mak
February 5, 2014
[dropcap1]F[/dropcap1]our gallon Ziploc bags full of sophomore Giselle Kaneda's medals from competitions big and small sat on her family's counter one Sunday afternoon.

"And that's not even all of it!" her father David Kaneda said.

Standing at a mere 5'3'', sophomore Giselle Kaneda weighs a little over a hundred pounds. She has highlighted streaks in her hair and likes science and history. She can also fight — and win.
Giselle started karate at age five, encouraged by parents who wanted her to be able to protect herself in the future. Her father, who had also competed in karate, was her coach in the beginning, and before long it was her own passion for the sport that drove her to improve.
After winning the second competition she entered, Giselle and her parents noticed her potential. Like any kid with extracurriculars, Giselle resisted at first but became more willing to attend practices as she improved.
"It's not the parents pushing them that is going to make them good," David said. "Ultimately, it's the kid themselves."
Now that she realizes how accomplished she is at karate, Giselle's parents need not push her to improve.
"I saw other people compete, and I thought, 'Wow, that's really cool. I wanna do that,'" Giselle said. So she did.
Since she first made the U.S. junior team at 12 years old in the two categories she competes in — kumite, a form of sparring, and kata, where she performs routines — Kaneda has been competing at an extremely high level and trains for hours every day to get to the next one. Just this past November she was part of the 28 member team that represented the United States in the World Junior Karate Championships.
Giselle's journey was not without fault. Her mother, Stephania Kaneda recalls a particular competition in Las Vegas with a little laugh. Giselle had to perform a kata routine that was normally very long, but she had finished rather quickly. Everyone, including the referee, had thought she had done the routine extremely fast, but the truth was Giselle had skipped over an entire section of the routine. Despite all of this, she still won the silver medal.
"That's not memorable, that's just depressing!" Giselle said as her mother continued to laugh.
According to Stephania, karate is different from sports like football or soccer in that colleges do not offer scholarships or scout for it.
"There's no grand plan to let her go to college for free," Stephania said. Despite this, Giselle pushes herself anyway. Training for and competing in competitions takes up much of Kaneda's time, so much that balancing sport and school is a large challenge even when motivated.
"It's worth it, though," Giselle said. "It's fun when you make friends — you see the same people at tournaments. It's like another social circle."
During breaks from school, Giselle trains every day for six to eight hours, ending the day so exhausted that she can't do much more than eat and sleep. She missed a week of school to represent the United States in the World Junior Karate Championships in Madrid this past November, during which each day leading up to the competition was the same: wake up, have a team meeting, practice, break, practice, eat a team dinner and go to bed.
"That's not something someone can make themselves do if they don't have the self-motivation," Stephania said.
And self-motivation is something Giselle has in abundance. Without parental pressure or the promise of college scholarships, Giselle's impetus is her own, genuine passion for karate. Starting at such an early age and being coached by her own father instilled a love that their whole family shares. Even their pet Shiba Inu is even named after a karate term: Kachi. It means "victory."