Girls basketball: Team shoots high for upcoming season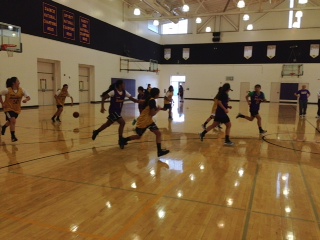 Lydia Seo
December 6, 2013
Varsity hopeful that extensive practice and increased speed will lead to CCS success.
With the start of their new season, the girls basketball team is ready to dribble low and score high. The girls expect great improvement in their team build and speed from the previous season, during which they made it to the second round of CCS.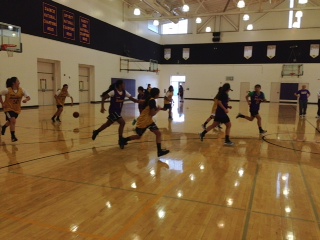 Tryouts began in the second week of November, with practice starting the following week. The team won its first scrimmage game against Carlton High School on Nov. 26.
This year's team consists of nine returning members and six new additions, one of whom — freshman Maya Fujiki — will be playing for the pre-season games and afterwards leaving the team this month to move to Japan, however. The number of seniors on the team has increased this year from two to six. With such a large number of experienced veterans, the team hopes the newer additions, most of whom have played JV previously, will find the transition from JV to varsity smoother. Senior Jacqueline K. Yee believes that the new members can more easily find mentors among those returning.
"It's on a more personal level," Jacqueline K. Yee said. "Instead of the whole team, twelve people, looking up to two people, it's more like nine people looking up to six people."
This year, the team has been preparing through extensive conditioning. The girls have already seen much improvement with regards to their speed. According to senior Tiffany Tsai, who is co-captains with seniors Stephanie Jennings and Jacqueline L. Yee, many of the players have have seen their mile times decrease by up to a minute, which they hope will give them an advantage on the court.
"I'm hoping that since we're faster this year, we can outrun teams," Jacqueline L. Yee said.
Coach Sara Borelli has worked with the team for thirteen years. Although the team reached the second round of CCS last year, Borelli expects this year's team, with its improved conditioning, to advance further than before.
"We have a very balanced team with regards to guards and posts," Borelli said. "I think we're going to take it one step more from where we were, just keep doing as well as we did last year, and take it one step further."
MVHS' upcoming home game will be on Dec. 12 at 8:00 p.m. in the main gym. The league games will begin in January.