Behind the scenes: Crossing over to a new life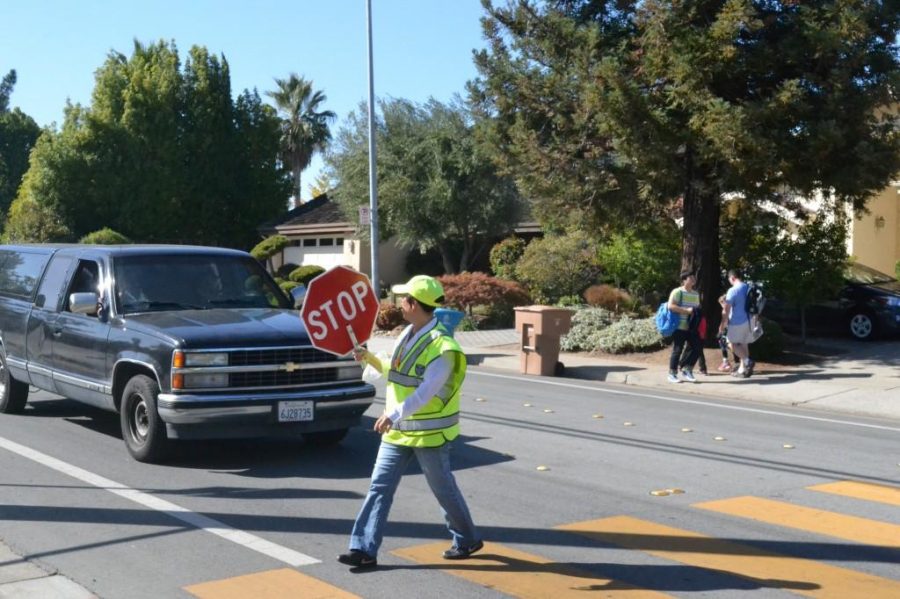 S

he banged on the trunk of the car in frustration: "This is no place for cars! You see the sign. Go back!" The driver muttered, but backed out of the pedestrian lane as directed. Crossing guard Jenny Liu marched towards the sidewalk, her neon green cap pronounced over the lines of cars.

Liu, 60, has been a crossing guard for the past three years –– and she does not plan on quitting anytime soon.

"I used to be a nurse when I was in Vietnam," Liu said. "I worked in the medical department for ten years. Then we moved here."

"That is my husband," she said, pointing to the figure in a similar neon green cap and vest standing thirty feet away. "He used to manufacture coffee beans. He was a businessman."

However, six years ago, Liu and her husband, Ming Liu, gave up everything in Vietnam and came to Cupertino solely for their daughter, then a sophomore in high school, to provide her with a better education and improved quality of life. But the couple's own lives became hard –– both financially and linguistically.

Nowadays, besides his duties as a crossing guard, Ming also works at a government service in Sunnyvale where he takes care of the disabled. As for Jenny, she attends ESL classes at Mountain View Adult School in the evenings. She has been taking classes there for six years, but she still struggles.

"I am sixty," she said. "My memory isn't as good as before."
"Yes, I regret coming here. But it is worth it for our daughter.
Nevertheless, she vividly remembers her days in Vietnam. Jenny recalls her life there as one without worries –– she had her relatives and friends, her house and the job that she loved. She had a good life. Ming nodded in agreement.
"We were doing well [in Vietnam]," he said. He smiled shyly as if embarrassed by his pronunciation and glanced at Jenny for support.
"Yes, I regret coming here," she said. "But it is worth it for our daughter."
Her daughter does not have it so easy either. After entering Homestead High School as a sophomore six years ago, the young girl, Annie Liu, had trouble adjusting to the new environment. But she refused to give up. According to Jenny, her daughter graduated from De Anza College this past summer and is now applying to enter a four-year college. Inspired by Jenny, Annie works a part-time job at Safeway to pay for her tuition and her gas bills. She wishes to enter San Jose State University to learn about nurse practitioning.
"My real ambition is becoming a doctor," Annie said. "But I will become a nurse first to earn money; then I will apply to medical schools."
Jenny, when speaking of her daughter, did not try to conceal her pride –– and her high expectations.
"[My husband and I] gave up everything for her future," Jenny said. "She must go to a college in America. She must."
The interviews with Jenny Liu, Ming Liu and Annie Liu were conducted in Chinese and translated into English.