AP Chemistry teacher writes chemistry iBook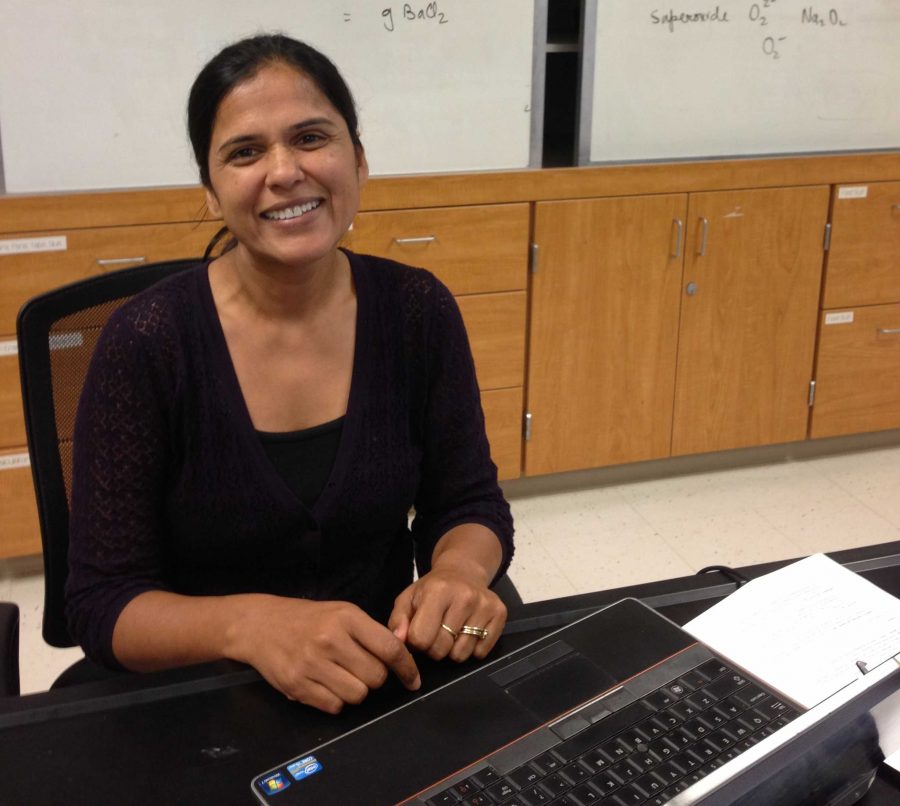 Lydia Seo
September 13, 2013
Kavita Gupta writes an interactive iBook to provide an alternative online teaching resource for her students.
AP Chemistry teacher Kavita Gupta was never much of a Mac person.
"Me being a PC person, I'd never seen a Mac before," Gupta said.

Despite not being Apple-savvy, Gupta took advantage of the modern ability to write and publish online books by creating an iBook that features some of the concepts in chemistry that she believes students struggle with the most, such as reaction prediction.

The idea of writing and publishing an interactive iBook first came from Gupta's students. Earlier, some of her students had supplemented their learning by using other educational sources on iTunes U, an app that allows teachers to upload their academic courses online. Gupta herself had used online teaching methods by creating and uploading Youtube video podcasts and links to practice quizzes on her AP Chemistry website, but considered the inconvenience of switching back and forth between tabs of different resources on the computer. She also wanted students to be more involved in their learning experience, so she decided to develop more interactive content to use in her course.

"I had the podcasts, I had the practice quizzes for them and I had online resources, but not all in a user-friendly interface," Gupta said. "iBook gives them that interactivity all in one page."

The iBook, called "Interactive Chemistry," is 46 pages long and covers content from the AP Chemistry course such as compound nomenclature, reaction prediction and net ionic equations; it does not cover the whole AP curriculum, but rather the foundations for the rest of the course. Her previous students encouraged her to undertake the task near the beginning of this year in January, after which she spent six months writing the iBook — even dedicating most of her summer vacation to its creation.

Gupta used iBooks Author, an app used to create iBooks. She had little experience in programming, but learned much through the help of online tutorials and written guides of other iBook authors.

[blockquote]"I started with the Mac not knowing how to scroll up or down," Gupta said. "It was a long journey. To create a book was a lot of excitement and a lot of frustration at times, when some formatting wouldn't happen."[/blockquote]

In July, she finally published her iBook in iTunes; the book is free and accessible by iPad. In "Interactive Chemistry," Gupta's areas of focus were interactivity, all-in-one integration and instant feedback, as demonstrated through the book's organization.
Each chapter begins with lessons, which are organized into information boxes. Some areas of content contain additional information, which pops up after tapping on an icon, and online websites and practice quizzes can be accessed through the available links. Gupta also embedded videos of her own podcasts that the students watch on the pages. At the end of the section, the student can take a quiz based on the lessons learned, and its results help the student understand which areas he or she needs improvement in.
With her iBook, Gupta hopes to allow students to work at their own learning paces.
"Some kids need to listen to something more than once, or do a couple more practice problems than others," Gupta said. "They can move at their own pace as they go through it."
Junior Andrea Chan, who is in one of Gupta's AP Chemistry classes, liked the individual pace that the iBook allows.
"I think it made [learning] easier," Chan said. "You could kind of pause it and write down stuff."
Junior Emily Lee, also an AP Chemistry student, commented on the iBook's detailed information and engaging interactivity.
"[The book] was really helpful… it's really detailed, it's really well-explained," Lee said. "And it's much more interesting to flip pages on an iPad."
According to Gupta, the drawback to the iBook is that many students do not have iPads, which is the only means of accessing "Interactive Chemistry." She therefore used the school's supply of iPads during the block periods that implemented the iBook in the lesson.
"If they could find out some way to make it downloadable for people that don't have an iPad, then that would be really good," Chan said.
As the iBook does not cover the whole curriculum, Gupta hopes to write more of the book in the future.
"It was a great learning journey for me," Gupta said. "I'm a very amateur writer right now, but I will get there eventually."