2013 says good-bye

Varsha Venkat
June 12, 2013

As principal April Scott finished her speech to the graduating Class of 2013, she had one final question: "Monta Vista Class of 2013, how do you feel?"
The seniors responded with a resonating, "We feel good, oh we feel so good, oh!"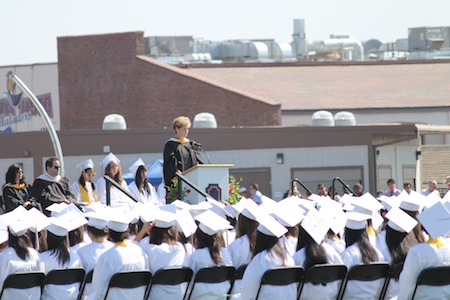 The graduates and their friends and family attended the commencement ceremony held on June 7 at 9:30 a.m., on the MVHS upper field. The event followed several practices held throughout the last week of school, and featured speeches by principal April Scott and seniors Pooja Pandey, Srisruthi Ramesh and Roshan Varadarajan.
Pandey recalled her experiences throughout high school — including getting her first C and missing junior prom — and the lessons she learned from each.
Ramesh described the learning curve that many seniors dealt with over the past few years. She emphasized the importance of taking chances and having a positive outlook.
Varadarajan wrapped up the speeches by encouraging the graduating seniors to face their challenges and not be affected by any external pressures.