Boys volleyball: Matadors overcome Mustangs' defense for a 3-1 victory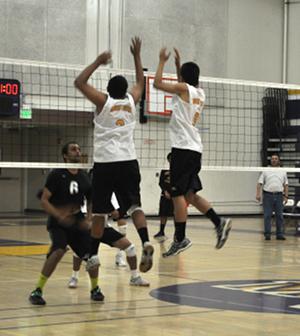 Despite point deficits and slow play, MVHS clinches a win.
The MVHS boys volleyball team defeated Homestead High School 3-1 at home on April 10. Coming off a victory from the Leland Varsity Tournament, the Matadors increased their record to 7-1 in league games and 22-2 in overall games with a 12-game winning streak. Although the team sometimes fell behind with slow defensive play that allowed the Mustangs' middle hitters multiple kills, MVHS bounced back with strong offensive play by junior Ryan Manley, senior Derrick Chiu and senior Atharva Fulay.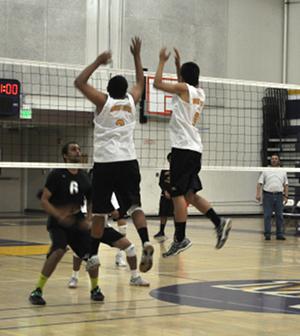 "I wouldn't say that this was one of our best performances even though we won in four [sets]," junior Ryan Bishop said. "We've played these guys earlier in the season and it was a quick three. If we're not done in three, then usually we're not completely satisfied."
MVHS won the first set 25-20. Battling early on in the set point-for-point against aggressive defensive play by the Mustangs, the Matadors eventually rose to 20-16 with strong communication that allowed senior Cory Low to make a kill. For the rest of the set, the Matadors kept their lead and ended with an ace by senior Ryan Louie.
After falling behind 0-6 in the second set, three of the points scored by Mustang blockers, MVHS was unable to catch up. The team made a steady climb from 2-8 to 8-9 with strong serving and kills by junior Ryan Manley, but never tied with the Mustangs. They finished the second set 16-25.
"We relax a lot and then our play just gets really sloppy," Chiu said. "We take the fact that we won the earlier games for granted, and we think other teams are just going to roll over and let us win. For us, we need to concentrate better in the matches, concentrate more in practices. The talent and skills are there on the team, we just need to put it out on the court."
The Matadors again battled HHS for each point in the third set as neither took a clear lead. Although they took the first point of the set with a save by Chiu and a kill by Bishop, for the most part both teams exchanged each point. Once the Matadors hit the 20-point mark, they warded off the Mustangs to scrape by 25-23 with a tip by Chiu.
In the fourth and final set, the Matadors took the first point with a kill by Chiu assisted by junior Josh Sullivan. However, MVHS fell behind as the Mustangs went on a 6-0 run with four kills. Led by Chiu, who posted seven kills throughout the set, and two aces by Fulay, the team tied the set up at 10-10 with three-point bursts to earn a 25-17 victory.
"The team's pretty resilient, they come back," head coach Paul Chiu said. "They've demonstrated all season that they can come back. They don't need a lot of coaching from me. The boys have figured out how to dig themselves out of holes and they're pretty resilient, so I wasn't worried once we got into a hole."
The Matadors' next home game is against Los Gatos High School on April 19.