Robotics team reaches quarterfinals of Silicon Valley Regional
MVRT enters elimination rounds with strong robot performance and receives the Team Spirit Award.
After a six-week build season, the MV Robotics Team competed at the For Inspiration and Recognition in Science and Technology Robotics Competition Silicon Valley Regional at San Jose State University on April 5 and 6. In the competition, known as FRC, three teams are randomly assigned to an alliance and two alliances compete during each of the qualification matches and are seeded based on their performance. After the qualification round, the top seeded teams become alliance captains and choose a permanent alliance for the elimination matches. Despite not being selected for the elimination matches at the Sacramento Regional at UC Davis two weeks ago, MVRT made a comeback with consistent robot performances to become the 13th seed out of 60 teams and become an alliance captain for the first time in a decade and received the Team Spirit Award but did not qualify for championships.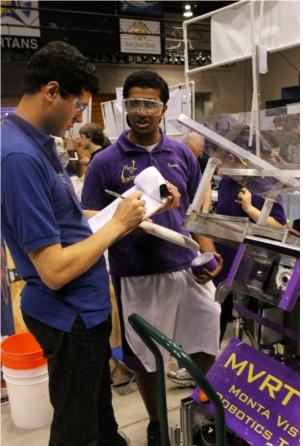 "SVR was leaps and bounds better than Davis for the robot, especially [because] I think our robot performance was much better now that we had accurate shooting and worked out some of the kinks for the bucket," MVRT president senior Evelyn Ding said. "I'd say overall it was a lot more fun and we got to see the robot at the level of performance that we were hoping for."
After modifications to the robot following the Sacramento Regional, MVRT calibrated the robot at the NASA Ames practice facility to improve the frisbee shooter's accuracy. The frisbee shooter consolidates an indexing and pushing mechanism with a bucket, a pusher bar and a quarter-circle platform with a wheel. After some fixes during the Thursday practice matches and early Friday qualification matches, MVRT scored an average of 35 points per round, compared to the average score of 15, to carry most of the matches and hold a win-loss record of 7-5.
"I've been to four competitions and out of all of them, this [year's] SVR was the best one I attended," sophomore Divek Toprani said. "This year we had the goals that we wanted to shoot the frisbees at a pretty good rate and make at least three out of four — and we did make mostly four out of four — so we achieved a lot of the goals that we had for this season."
By the end of the qualification matches on Saturday, MVRT moved up to become the eighth-seed alliance captain as higher seeded teams picked each other in alliance selections. During alliance selections, top-seeded teams selected two other teams to join a permanent alliance for the elimination rounds. MVRT selected a versatile offensive and defensive alliance with the M-A Bears 766 from Menlo Atherton High School and the Insomniacs 2489 from Mission San Jose. However, the eighth alliance was eliminated after being defeated twice by the first-seeded alliance, formed by NASA-sponsored former world champions the Cheesy Poofs 254 from Bellarmine Preparatory and the Robonauts 118 from Houston, Texas as well as the Janksters 1967 from Notre Dame High School. The first-seeded alliance went on to win the regional competition.

MVRT Shooting Mechanism from Emma Lewis on Vimeo.
Unlike last year, MVRT did not sign up for the waitlist for a bid to championships. Because only winners of the competition and recipients of the Chairmans Award or Engineering Inspiration Award are guaranteed a bid, the robotics team ended its season at SVR. The team's year is not over, however. Over the summer, it will continue to work on robotics projects as preparation for the next build season.
"I think we have to work on basics," mentor Mauri Laitinen said. "Last year's robot was probably the height of reliability and neatness, and I think we need to shoot for that again next year along with performance in general."
The team also received recognition for its operations divisions with the Team Spirit Award sponsored by Chrysler due to its extensive outreach efforts. MVRT influences not only the community with workshops, demos and classes for people of all ages but also the world with a pen pal program with Empower Kids in India.
"The Team Spirit Award was an award we had never received before, so it's something that we weren't expecting," junior Jimin Park said. "We got it because, as the judges said, while we were quiet on the outside, we were really spirited on the inside. And I think that represents our team a lot because at competition we might be more muted but inside [the robotics room] no one can say that we're quiet people."
The outreach will continue over the summer as MVRT spreads the spirit of FIRST by teaching engineering to students of all ages throughout the Bay Area. Two such programs are Kwan Academy, a class for middle school students, and Future Stars, a class for elementary school students taught by the robotics team in South San Jose.
"We can expand our summer programs to reach even more students and work with the people in charge of Kwan Academy and Future Stars to see if we can bring more to the program," Operations Lead senior Joyce Yan said. "If we make our programs longer, we'll not only be able to reach out to more students in our community but also to get our own students involved in outreach."
Karen Feng is a robotics team member who attended SVR.