STAR testing will shift to a more in-depth assessment in 2015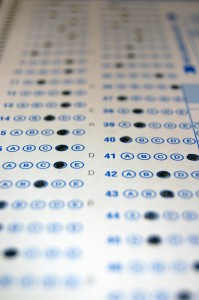 As part of a new transition in California's recently-adopted set of Common Core State Standards, the Standardized Testing and Reporting examinations are to be suspended by July 1, 2014 to prepare for an overhaul of the assessments, according to a news release by the California Department of Education.
The proposal, which was recommended by State Superintendent Tom Torlakson, is described in his report to the governor and legislature of California which calls for a suspension of STAR testing during the 2013-2014 school year. Torlakson's report is the product of a yearlong study with stakeholder focus groups, regional public meetings, a statewide survey and other public input. About 2,000 people took part in this research, providing feedback and suggestions for the project.
After the one-year hiatus, STAR testing, which is used to ranks state schools by requiring all public school students from grades two to eleven to take the tests, will return with a more in-depth approach with regard to not only the way students learn, but also the way teachers plan their lessons around the standards that will be tested.
"As a teacher, what's most exciting is that these new tests will serve as models for the kind of high-quality teaching and learning we want in every classroom every day," said former East Bay teacher Torlakson in the recent news release. "The concept is simple but powerful: If our tests require students to think critically and solve problems to do well on test day, those same skills are much more likely to be taught in our classrooms day in and day out."
According to an article from the Mercury news, the tests will include "in-depth essays and projects that students will complete on computers." This follows the new set of CCSS for the education curriculum, "which seeks to deepen learning by, for example, requiring students to read informational texts as well as fiction and dig deeper into mathematical concepts as well as memorizing tables."
According to the California Department of Education official website, the CCSS has already been implemented in 45 states, where the same standards for English and math were adopted.
"Multiple-choice, fill-in-the-bubble tests alone simply cannot do the job anymore," Torlakson said. "It's time for California to move forward with assessments that measure the real-world skills our students need to be ready for a career and for college."
The changes are a response to criticism that the multiple-choice tests depreciate the "in-depth understanding of a subject matter… because it is not easily measured [in the STAR test]," according to Torlakson's report. This is a concern that is born from the fact that American students are falling behind students from other countries, placing 17th in the world's best education ranking by the Huffington Post as of 2012.
As for educators, some welcome the transition with trepidation.
"In terms of the [STAR testing], I think that my concern as a board member is that so much of the test is computer based that I'm concerned about whether or not we can afford to provide the technology necessary for all the children to be able to take the test appropriately," said CUHSD Board of Education member Phyllis Vogel.
Additional recommendations in Torlakson's report include using language arts and math tests to assess high school juniors' college readiness, developing alternative tests for students with severe cognitive disabilities and considering the need for tests in other languages once the computer based assessment is implemented.
However, since the revamped STAR test won't be available for use until its debut in 2015, it is unclear now whether it and the CCSS will help or hinder the education system. Nevertheless, individuals like Vogel agree that the new test will level out the playing field for students all over the nation and is thus an optimistic step toward improving America's falling education standards.