Varsity softball team struggles to unite and continues five-game losing streak
Weakened after losing strong offensive players to graduation, the young softball team struggled in its first league game against Los Altos High School on Mar. 12. Discouraged after a 0-4 preseason, the Matadors were unable to score any runs the second time this year. A weak offense struggled to make adjustments against LAHS pitcher freshman Lizzy Beuter, who threw a no-hitter and only allowed one four-pitch walk to MVHS senior Kylie Page.
"I think it's definitely mental; we think that just because we lost games before that we're going to lose the next game," sophomore pitcher Tamanna Ahluwalia said. "We need to get over that."
A new team in the upper De Anza League, the Eagles earned their first league victory with aggressive offense and defense. Fast pitching by Beuter caught the Matadors off guard and batters struggled to hit.
With the Eagles up 5-0 by the bottom of the third inning, Page walked to first base on four pitches, but was unable to advance as freshman Maddy Marten, senior Carissa Chan and freshman Marissa Lee all struck out after long at-bats.
"When you lose 87% of your offense, it's hard to replace, and we have some kids that only play high school to high school, so it's a seasonal thing for them, so they have to catch up and usually it takes a little while," head coach Ray Teixeira said. "And we have kids that are hurt right now, and kids that are out for various reasons, so we're just trying to rally behind that and hopefully work on our game and get a little bit better."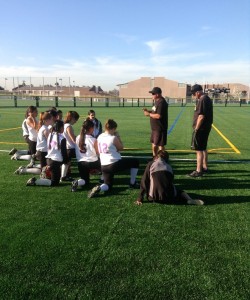 With several members of the team unable to play, the coaches have been forced to rearrange positions, which has weakened the defense. Stronger and more versatile defensive players like Chan and senior Nikita Agarwal have been playing many different positions, while less experienced non-starters fill in.
After a homerun that increased the Eagle's score to 8-0 in the fourth inning, Seaver made another effort with a fly ball to right field but could not get on base. The Matadors were unable to recover throughout the rest of the game. The team was forced to forfeit a seventh inning due to the 10-run mercy rule after five innings.
"I think people are getting comfortable with losing because it's happened so many times," Page said. "They're getting used to it, so they're not as sad as they should be when we do lose. The intensity needs to pick up for us to win a game."
The Matadors plan to work on batting as they attempt to rally for the away game against rival Homestead High School on Thursday, who finished second in league championships last year. MVHS won one game against HHS and lost the other in the previous season.