DECA competes at State Career Development Conference
DECA's annual State Career Development Conference was held at the Santa Clara Marriott and the Santa Clara Convention Center from Feb. 28 to March 3 . Roughly 2,000 students in total attended the conference, with over 300 members constituting the MVDECA delegation.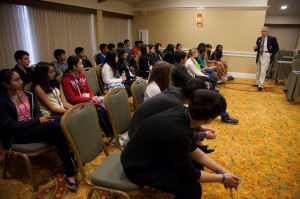 Students competed in either one or two events on Friday and Saturday, and the awards ceremonies were held on Saturday evening and Sunday morning. Students were able to compete in one or both of two categories of events. One category was roleplay events, which consisted of a test component and a case study component in which members have 10 minutes to prepare a presentation, and written events, which consisted of a written plan accompanied by a presentation.
As in past years, the state conference was a qualifying competition. Students who placed in the top four of each event qualified for ICDC, DECA's International Career Development Conference, which will take place in Anaheim, Calif. in late April. This year's state conference was more competitive than in years past, as CADECA has recently undergone a large increase in membership after reaching 4,500 members. Yet MVDECA was still able to dominate in the competitive events, qualifying 68 teams and a total delegation of over 100 people for ICDC.
"I wasn't expecting to win third place," said freshman Kavya Aswadhati, who along with her teammates Lucas Tao and Sara Ye qualified for ICDC in the Buying and Merchandising Operations and Research event. "I'm really excited to compete at ICDC, and I think it will be a good experience."
MVDECA officers, who have been training members for six months at weekly study sessions, feel that the event was a success.
"I think that we did well because our members worked really hard this year," said MVDECA Director of Resources sophomore Shivani Komma. "We've been training our freshmen since the summer, and they've continued to practice up to the states conference. The next step is getting ready to be successful at ICDC."
Eva Spitzen is a DECA member who attended the state conference and reported for this story.