Dance showcase held Mar. 1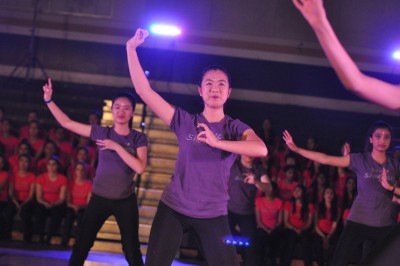 Even with a change of instructors and goals in the dance program, "International Rhythm" provided both classic and contemporary routines that were met with praise.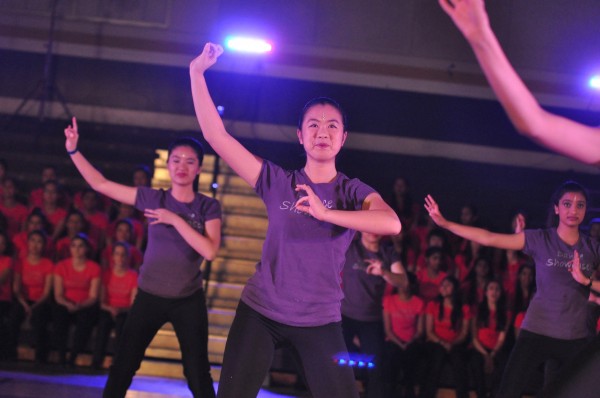 Dance teacher Dasha Plaza laughed as she reached out to hug swarms of adoring  students asking for pictures. Afterwards, she took the time to converse with each one, complimenting a specific skill or technique the student displayed. Several dancers, Plaza included, received bouquets at the 15th annual dance showcase.
While the showcase has been the highlight performance for dance students for several years, this school year marked a major change in the program. Dance teacher Lori Palfalvi took a maternity leave, and Plaza was hired as a long-term substitute. While Plaza has many years of professional experience –– dancing as a Russian ballerina and instructor at Dance Attack studios ––  her job at MVHS was her first time teaching high school students.
"In the beginning, I wasn't sure how they would respond to my strictness and my drive to get them to the level they are at today, but I guess they all came to appreciate it," Plaza said. "They're so hard-working, and very dedicated. They're basically perfectionists. It was so enjoyable to work with them."
Plaza choreographed several routines in the show to high-energy pop songs such as Demi Lovato's "You're My Only Shorty". However, her own Russian ethnicity inspired her to name the show "International Rhythm" and add cultural dances to the program as well, including two bhangra routines. The routine included dance steps and skills not typically taught in the class, but there were no problems in the final performance. Dancers wearing bindis (decorative stickers worn on the forehead) beamed as they moved across the floor.
"It was an incredible experience to teach them [the dance students]," teacher assistant junior Anisha Pathak said. Pathak choreographed and taught the bhangra routine. "Seeing them grow from not being able to do a pirouette to performing an entire routine was amazing. I was literally in tears while they were on stage."
In addition to bhangra, dances to Danish singer Ida Corr's "Let Me Think About It" and British singer Calvin Harris' "Coming Back" revisited the "international" theme. The dancers' bright faces and swaying hips received loud claps and cheers from the audience and dance TAs.
As always, the showcase included performances from the MVHS Cheer, Song and Dance teams. The teams split into smaller groups for these performances, which were adaptations of routines performed at previous competitions. While team members had significant experience performing and several students were first-time performers, the show managed to run smoothly.
"It was kind of terrifying to perform for an audience," sophomore Victoria Morris said. "But it was also really cool at the same time. It grew hard to see them because of the lights, so eventually I just tried to forget they were there and smiled."