Girls basketball: Matadors put off 48-15 victory over Cupertino Pioneers
After strong defense, the Lady Mats were victorious over the Cupertino High School Pioneers with a score of 48-15 at MVHS on Jan.16.
The first quarter started off with tough defense by the Lady Mats; the Pioneers were only able to score two points, which jump-started a scoring streak for the Mats. In the first few minutes of the game, after many attempted shots by CHS, MVHS junior Stephanie Jennings rebounded the ball and passed it to junior Jacqueline Yee for the Matadors' first three-pointer of the game. Soon after this score, the Lady Mats managed to gain control of the ball for the majority of the half.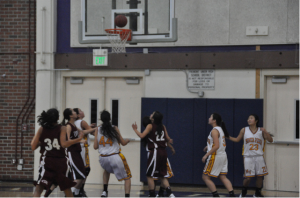 The game also consisted of many fast break attempts by the Matadors with a high percentage of success. In one of these situations, senior Megan Tsao threw a half court long shot to sophomore Hannah Pollek, allowing her to score.
Additionally Jennings, Tsao and sophomore Christina Jennings scored three pointers in the first half that ultimately led to a halftime score of Matadors 31 and Pioneers 6.
Head coach Sara Borelli explained that her team did everything they discussed and executed it well.
"I think they had confidence to win so that was shown on the court. Everybody was doing what they were supposed to be doing," Borelli said. "We talked about playing tougher defense and we only had three or four turnovers. Everybody was playing well and shooting well."
The second half started off with Matador possession and a pass from senior Ashley Hu to Tsao for a three-pointer within the first 10 seconds of the half. Then both teams got the ball but failed to convert it to points, because of the multiple passes, eventually leading to the shot clock running out of time. This was a common trend for CHS and MVHS during the second half, as only about ten points were scored by each team.
After several missed shots by the Pioneers, there was a fast break by junior Pranuthi Kanneganti, and she passed the ball to Jennings who then scored a point. Soon after, junior Jacqueline K. Yee also scored a three pointer after several missed shots and rebounds by the Mats.
"I thought it was a good way for us to come back given we had lost our past four games," Jacqueline K. Yee said. "We really played as a team this time which led to a really great win."
The game ended with a quick shot by Jacqueline K. Yee, ultimately giving the Lady Mats a 33 point win over the Pioneers. The Matadors managed to pull off a landslide win after four consecutive losses.
The Matadors' next game will be on Jan. 25 @ 6:15