Boys soccer: Second regular season loss for Matadors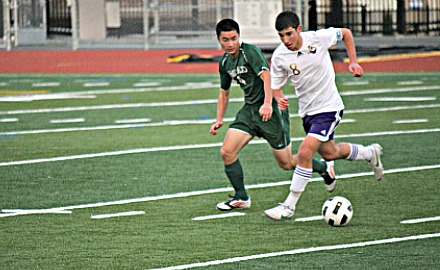 Boys varsity soccer played a tight first half against Palo Alto but eventually fell behind 1-3.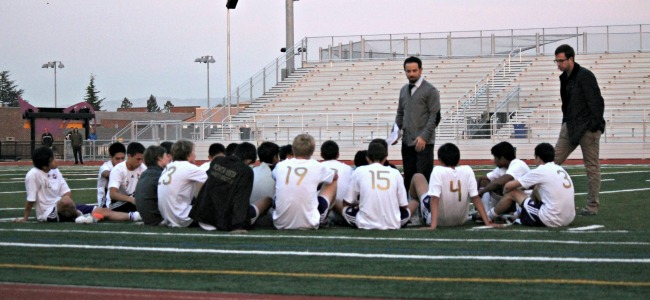 After taking their first regular season loss against Fremont High School on Jan. 4, boys varsity soccer dropped its second game against Palo Alto High School on Jan. 7, bringing their overall record to 3-5-1. Though the Matadors started off with a strong pace, the second half of the game proved to be more difficult as the Vikings pulled ahead.
PAHS struck first in the 12th minute with a goal and continued to dominate ball possession. The Vikings scored again in the 24th minute with a lob that went over the arms of MVHS goalie sophomore Anirudh Srinivas.
Down early, the Matadors became noticeably frustrated and increased their offensive aggression. Forward sophomore Brad Ohadi's header was MVHS' first chance to score but [[he?]] missed the goal, while midfielder senior Jacob Feit's subsequent shot hit the goalpost from the right side on the corner of the six.
"Once our center-mids get the ball, they are very good players, but they couldn't distribute the ball properly," midfielder senior Rohit Mukerji said. "We did not have enough shots on goal."
Fighting for more ball possession, MVHS continued its offensive efforts as Feit passed the ball to Ohadi in the 39th minute, who managed to score with a curving shot to the top left corner of the goal. This brought the Matadors closer with a score of 1-2.
With the game so close, both teams increased their intensity and tightened their defense as well; Mukerji's two shots, blocked by the PAHS goalie, were some of the few chances the Matadors had to score.
Towards the end of the game, the referee called a foul on MVHS defender senior Brian Nordby, a decision many of the players and spectators regarded as questionable, saying the referees had tolerated contact throughout the rest of the game. The Vikings were awarded a penalty kick and scored their third goal at the 75th minute, putting the game out of reach for the Matadors and leading to a final score of 1-3.
"What makes me frustrated is that we're not coming out ready to fight. Our kids are so skilled and confident, but we forget the basics," head coach Pooya Hajjarian said. "It's tough going in there knowing you are the better team, even playing like you are the better team, and not coming out with the results that you want."
The Matadors' next game is at home on Wednesday, Jan. 9 at 3:30 p.m.