Boys soccer: Easy 8-0 victory over San Lorenzo Valley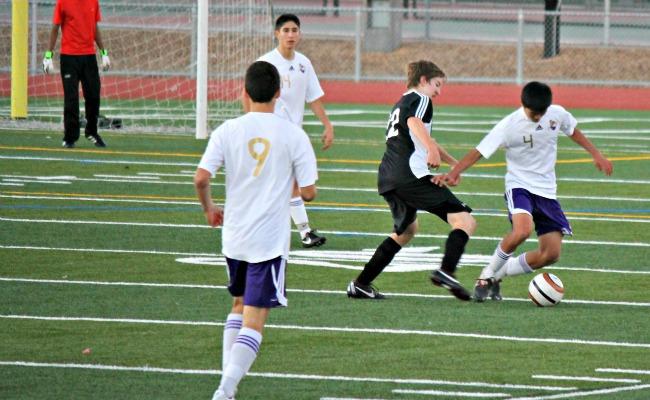 Playing on the new turf field for the second time, varsity boys soccer defeated San Lorenzo Valley High School in a shutout on Dec. 10. In a relaxed, low-key game, the Matadors scored eight goals and allowed none. Forward sophomore Brad Ohadi led offensive efforts with three goals and three assists in the second to last preseason game.
The Matadors started quickly, focusing on offense in the beginning of the game. Strong communication and frequent passing gave MVHS shots at the goal and allowed them to score early in the first and seventh minutes. The Matadors continued to capitalize on these opportunities, following the first two goals with four more for a total of six in the first half. Brad Ohadi contributed two goals while seniors Bobak Ohadi, Rohit Mukerji and Jacob Feit and junior Vaisakh Menon each scored once.
"We finished chances, which is something that we haven't done prior to this game," head coach Pooya Hajjarian said. "Today, we had lots of opportunities and we scored them."
After the score settled at a comfortable 5-0 lead for the Matadors, they slowed down their offensive efforts in an attempt to "keep it classy," members of the team said.
Going into the second half of the match, the 6-0 lead allowed Hajjarian to put non-starters into the game and switch the positions of other players. With the team so far ahead, they had the freedom to experiment with new plays and formations.
Though the tone of the second half was clearly more relaxed, the Matadors added to their lead with a goal by forward senior Bumpei Maeda and another one by Brad Ohadi, his third of the night.
"We had great teamwork and we passed the ball around a lot, which let us score a lot of goals," Brad Ohadi said.
Defense stayed solid throughout the game as well, allowing the Cougars few chances to score. The few shots on goal SLVHS made were easily stopped by goalies junior Kushal Pradhan and sophomore Anirudh Srinivas, who each played half the game. Pradhan had two saves while Srinivas had one.
"Our game plan is to go in there and possess the ball and at the same time finish our opportunities," Hajjarian said. "That has been our struggle so it was really nice to see them do this, but at the same time we can't go into the next game with our heads too big."
The Matadors' next game is against Santa Teresa High School on Dec. 14 at 3:15 p.m. It will be their last preseason game.