Challenge Day held Nov. 15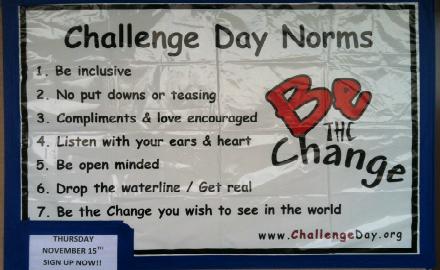 Students open up to peers, share personal experiences with one another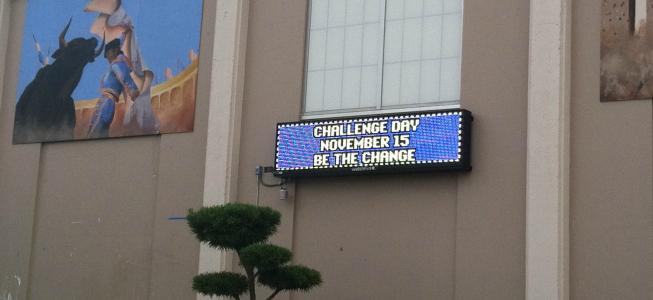 For most students, not having bells on Thursday was the only unorthodox part of their schedules. For 100 select students, however, the irregularities didn't stop there: Instead of going through the typical seven periods, they spent the day participating in games, munching on Lay's chips and sharing their innermost feelings with each other.
Open to both students and staff alike, the first Challenge Day of the year took place on Nov. 15 in the gym from 7:30 a.m. to 3 p.m. According to event coordinator Student Advocate Richard Prinz, Challenge Day has been held semiannually since 2008. During the first half of the day, students participated in icebreaker games and bonding activities, led by 25 team leaders who were appointed based on their previous experience with Challenge Day. During the second half, participants broke off into small discussion groups, with at least one team leader present in each to facilitate the conversation.
First-time attendee senior Cathy Ang was surprised by the emotionally charged environment of the event.
"[It was] powerful and respectful the whole time," she said. "In the beginning it was really fun, but towards the end — when it got a little bit more serious — everyone was so accepting and loving, and it was great."
Prior to attending, Ang had heard rumors about the deeply transformative nature of Challenge Day and initially had her doubts. However, afterward, Ang changed her mind and now in fact feels that Challenge Day was worth missing a day of school for.
"Even though tests are important, we have to consider our lives outside of being a student … That's what Challenge Day is for," Ang said. "It gives [us] the opportunity to just put that aside for a day, [to] grow as a person — which I think is important, no matter what."
Sophomore Oindril Dutta agrees. Also a first-time participant, Dutta had only heard the rumors surrounding Challenge Day prior to attending. In fact, he wasn't sure what actually happened during the process.
What he found was the startling truth: that all his peers go through private struggles he never would have imagined.
"Cupertino is supposed to be the place, the utopia. Nobody is hurt here … It's not exactly a very bad community compared to, well, most of the world," he said. "[But] Cupertino is just like any other place … What I [learned] was that people suffered much more than I ever expected them to."