CROSS COUNTRY: Lynbrook Invitational serves as warm-up for league finals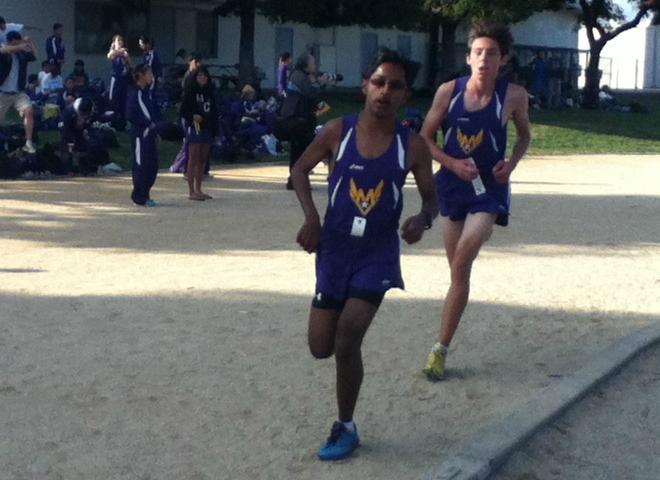 The MVHS cross country team arrived at Miller Middle School along with hundreds of other runners from local high school and middle school leagues. While the Lynbrook Invitational is usually held at Lynbrook High School, this year, because of field construction, it was held at Miller Middle School on Oct. 25. The race, which is only 2.05 miles on flat ground, is considered fun, fast-paced and good preparation for league finals held five days later on Oct. 30.
The varsity boys placed fourth and were led by sophomore Rohan Choudhury and junior Zachary Patti who placed seventh and eighth respectively. The three other runners who completed the top five for the MVHS varsity boys, senior Stephen Ting and juniors Steven Lim and John Hsiao, scored within consecutive places of each other taking 29th, 30th, and 31st respectively.
"I just wanted to run a sub 5:20 mile pace and I pulled it off," Choudhury said about his expectations going into the meet. "The best moment of the race was when I passed [Patti]."
"The guys are running well together and it's fun to hear them say, 'Gee, we're really pushing each other,'" head coach Kirk Flatow said. "This is just a tune-up race, so we're not trying anything new, but now that we've been running this whole year together its time to put it together for leagues."
The varsity girls placed first, led by sophomore Jenny Xu, freshman Madeleine Yip, sophomore Julia Chang, junior Bridget Gottlieb and sophomore Chloe Li. All placed in the top twenty in a race of 56 runners. Xu broke the sophomore girls record with her time of 12:02.
Although the girls' team is the favorite to win the league finals in just a few days, they are trying not to be too overconfident in their prospects.
"We'll definitely do better than we did last year," Yip said "But we can't get too cocky."
The Matadors' next meet will be on Nov. 10 at Toro Park in Salinas.