GIRLS VOLLEYBALL: Matadors beat Lynbrook but fall to Los Gatos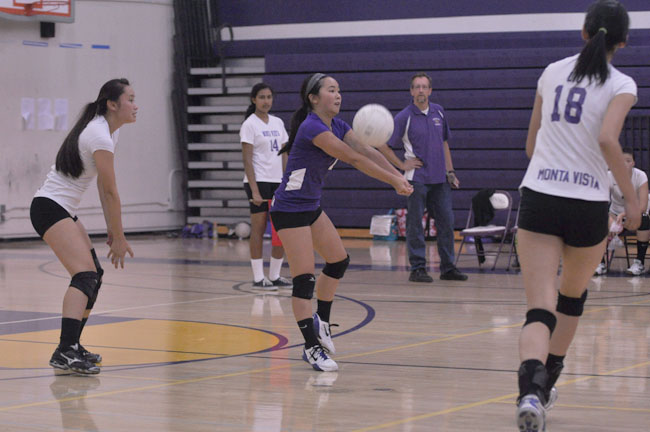 Atharva Fulay
October 11, 2012
As MVHS scored their final point to win the game with a 3-0 score on Sept. 27 against Lynbrook High School, the team seemed oddly somber as they went through the traditional "good game" high fives with their opponent and their lightning speed breakdown of the volleyball court. This mood proved to be almost prophetic, as, on Oct. 4, the Matadors played sloppily against Los Gatos High School and fell 0-3 after missing serves and communicating poorly.
Matadors defeat Lynbrook High School 3-0
During the middle of the first game, captain senior Serena Chew noted that it was the Matadors' first league win of the season — and smiles finally began to break out across several players' faces.
During the first set, MVHS crushed Lynbrook High School with a score of 25-6, setting up one strong play after the other. One particularly game-defining moment involved senior Allison Yu diving under the net to pass the ball to her teammates junior Maria Balus, who subsequently passed to Chew for the score.
"We were sort of confused by some of their serves and our passes weren't too good," head coach Colin Anderson said. "We kind of stopped and got our focus back and started passing [well] again to finish them off for good."
After an easy first set, MVHS began to falter. Despite leading 20-11, the Matadors called the first timeout of the game when LHS began to catch up. MVHS regrouped and focused on passing, battling it out point for point until the set was finally won with a score of 25-19.
"Once we started going with the flow and we got a really big run, I knew we could keep it up," junior Nikita Sankar said. "[However,] we need to work on staying strong through the whole [season] instead of giving up at the end, because in the past we've done really well in the beginning and done worse at the end."
Matadors lose to Los Gatos High School 0-3
Starting with the first set of the game against LGHS, on Oct. 4, the Matadors played sloppily. MVHS eventually lost the match to the Wildcats 0-3.
Outside hitter junior Beverly Yu tweaked her ankle by stepping on an opponent's foot near the start of the game. After a timeout, however, she was able to play through. Despite this, the Wildcats pulled ahead, as the Matadors lost their momentum and fell behind 8-11. The Matadors dropped the first game 20-25.
"We definitely did not fall apart like we did in other games and it was nice that we didn't give up so easily," senior Vivian Duong said. "We definitely could have played harder, but it was nice to see that we were all there together and we had each other's backs."
The Matadors started out the second game committing many unforced errors, but after a subpar 2-6 start, the team began to pick it up. The rallies were long and intense. Both teams made small runs of three to five points, but the Wildcats gained a 18-11 lead. The Matadors, though, did not fall easily, rallying back to cut the lead 16-20. In the end, they lost the game 17-25.
"I think we need to look at attacking them harder on some angles because they were [sneaking] up on our outsides," assistant coach Glen Chew said. "[We should be] playing a little bit more of a short game, little bit more tips and roll shots to the middle, just keeping them off balance."
However, the Matadors began to lose grip of the game. They fell to a 17-19 deficit but were able to fight their way to take a 21-20 lead. But soon after, the Matadors lost focus and made errors at this critical time, losing the game 21-25.
"[We need to] be mentally focused all the time because I think some of us maybe lost track of what was going on throughout the game because it was kind of long and lofty," Duong said. "[We have to] work on being more consistent."
The Matadors' next home game is on Oct. 11 against Mountain View High School.