GIRLS TENNIS: MVHS struggles to pull out win over Palo Alto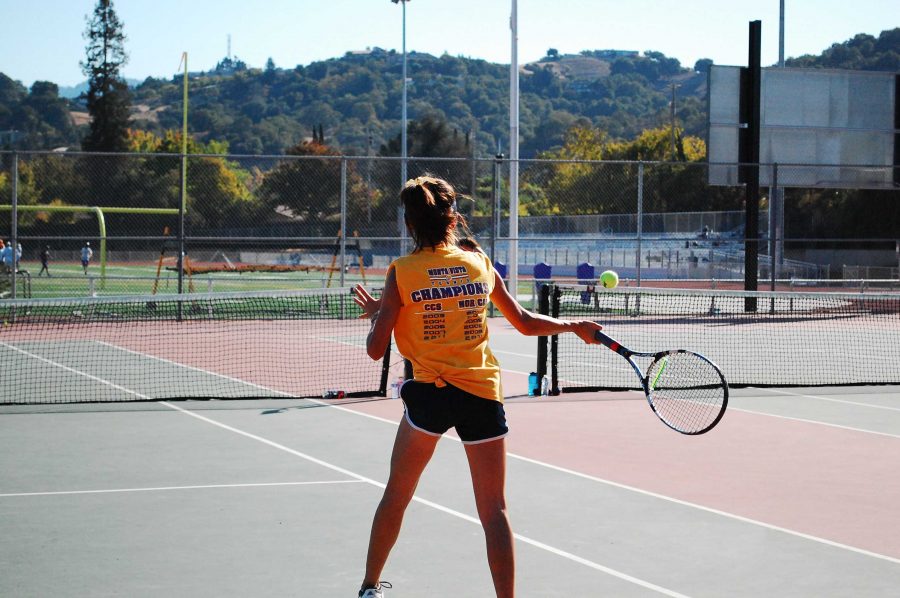 Ashley Ding
October 4, 2012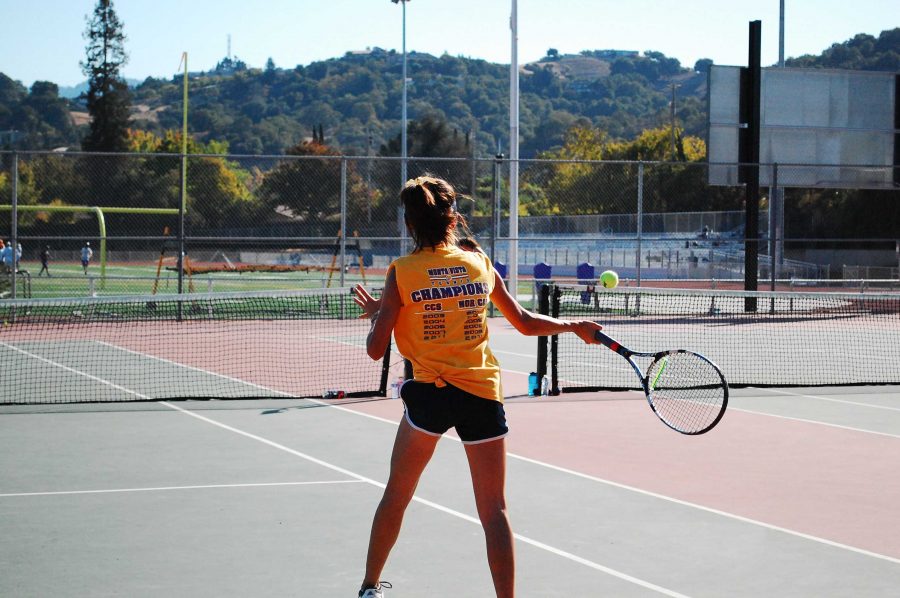 On Oct. 2, the MVHS girls tennis team won against Palo Alto High School by a small margin, coming out on top 4-3. With several missing and injured players as well as newly paired doubles teams, the Matadors faced difficult circumstances. The team struggled in this match, as many players committed multiple unforced errors like missing returns and serves.
Regardless of the challenges they faced, the girls managed to continue their winning streak this league season. Aided by key players including No. 3 singles Angella Qian and No. 4 singles Kelsey Chong, the Matadors succeeded in maintaining their title as undefeated champions.
Featured Matches
No. 3 singles MVHS sophomore Angella Qian defeats PAHS senior Sammy Solomon 6-0, 6-0
Qian played one of the best matches of the day, defeating Solomon without losing a single game. Qian was very consistent, hitting powerful returns and putting away a number of shots by Solomon. Qian clearly had the upper hand throughout the match, not only because of her skill, but also due in part to Solomon's multiple unforced errors.
However, Qian initially had problems with her serve, hitting the first ones slightly over the doubles lines. After a couple of serves, however, she was able to consistently hit into the service square.
"For the first set, I just tried to place the ball in, so I wouldn't have to deal with losing points easily. Once I get the game going, I can actually use my real game serves," Qian said.
Qian's serves and returns proved to be effective against Solomon. In the end, Qian managed to put away a volley to take home the win.
No. 1 doubles MVHS juniors Shwetha Bharadwaj and Sabrina Mui lose to PAHS senior Tiffany Nguyen and junior Julianne Le 1-6, 6-4, 3-6
Bharadwaj and Mui had a strong middle game, but lacked in performance in the start and finish. While Bharadwaj was able to hit consistently and Mui had strong, powerful serves, they began to falter in the third set as both began hitting balls out of bounds.
Part of their strategy consisted of hitting the ball to one of their opponent's left side as they noticed she had a weak backhand. Another part consisted of cornering one of the girls who was not as strong at volleys.
"We could have played a lot better, but due to the given circumstances, I think that we weren't at our best conditions physically," Bharadwaj said.
Both Bharadwaj and Mui were injured with a fractured back and injured hip respectively. In addition, this was the girls' first time playing together in a game.
"We usually don't play doubles together … [but] four people on the team are gone so we have to play together," Mui said.
Though they eventually lost to Nguyen and Le, Bharadwaj and Mui still managed to play a close game with many long rallies and exchanges throughout.
The Matadors' next game will be against Los Altos High school on Oct. 4.