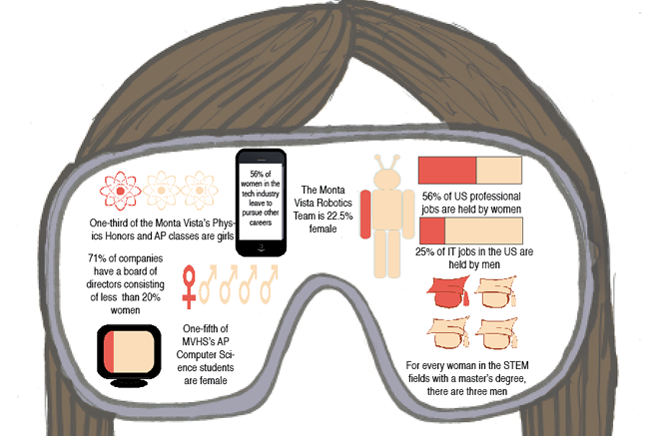 According to the American Society for Engineering Education, in 2008 men received more than 4 times the bachelor's degrees engineering than women did. The Women in Science Technology Engineering and Mathematics club that was founded this year attempts to aid in the process of counteracting figures like this one.
Programs like WiSTEM are an aspect to women making headway in holding the same ground as men in all fields.
The Economic and Statistics Administration revealed in 2009 that men hold 75 percent of the jobs in STEM fields. Because of this, hundreds of programs like WiSTEM, aimed at sparking interest in women to integrate them into these areas, were established across the nation.
Moreover, universities known for their STEM related programs such as MIT and Kansas State have changed their admissions systems to accommodate more women. President of WiSTEM junior Molly Vora wants to add to this process at Monta Vista.
"Getting in [to the California Institute of Technology] is a lot easier for girls than guys just because they want to make the ratio of guys to girls similar," Vora said.
Science Teacher Lora Lerner, the advisor for WiSTEM at Monta Vista, voiced her belief that women are still underrepresented in the STEM fields.
"We live in a world that is still somewhat discouraging to women participating in [STEM] fields, that is still sort of giving them those messages over their lifetimes that, 'Maybe this isnít the field for you. That's what boys do,'" Lerner said.
The differences in between men and women in STEM fields are still evident. According to the 2009 survey by the Economics and Statistics Administration, women in STEM fields earn 84 cents for every dollar their male counterparts earn.
Despite this, there are others who believe that the time for women to be bolstered in academia is over. After searching for summer programs to apply for, junior Rahul Madanahalli faced frustration upon discovering the abundance of esteemed STEM programs that are exclusive to girls.
"I donít see the point of there being women in STEM, It's people in STEM," Madanahalli said,"I think that [academic programs] should all be merit based."
Lerner, however, believes that STEM isn't a zero-sum game and that enhancing the potential for women benefits everybody.
"By improving support and opportunities for women, we're not taking away support and opportunities for men," Lerner said. "We're providing a world that has more intelligence, more ideas and more things going on."