GIRLS TENNIS: MVHS defeats Burlingame High School 7-0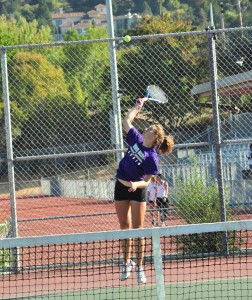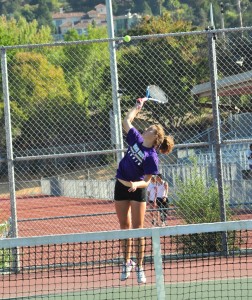 The MVHS girls continued to dominate their competition on Sept. 4 during their second game of the season, winning 7-0 against Burlingame High School. With this win, the Matadors continued their undefeated streak from last year.
The team's experience was evident in all the games, as they used their knowledge from the past season to defeat BHS. All of the girls hit powerful serves and strategically placed balls to throw the opposing team off balance. The match was an opportunity for the team to practice before heading to Fresno for the annual California Classic Tournament, where they hope to defend their championship title.
"We play [BHS] every year … It's a good match to get ready for Fresno," head coach Gene Fortino said. "We tried to keep the doubles especially strong."
Featured Matches
MVHS junior Kelsey Chong vs. BHS freshman Sara Arfania
Though she won both sets of her game, junior Kelsey Chong had difficulty playing consistently against Arfania. Her game was scattered with small inconsistencies here and there, including hitting the ball out of bounds and into the net.
"I didn't play my best," Chong said. "And I wasn't really playing my game."
She began the game with a decent start but made noticeable errors throughout the first set. However, Chong altered her strategy of play after noticing a weakness in her opponent's technique.
"I realized she couldn't really get high balls, so I started lobbing more," Chong said.
Chong ended the first set with a strong cross-court shot and won the second set 6-0 to take the overall match.
MVHS juniors Jenna McGuirk and Sabrina Mui vs. BHS junior Madeline Somers and
sophomore Martina Lange
In No. 1 Doubles, McGuirk and Mui breezed through the match using tactics including cross-court shots and powerful volleys. The duo appeared to be extremely comfortable on court, despite having never played together in the past. With some advice from their coach, they were able to revise their singles strategies and go into the game as better doubles players.
"We tried volleying more and returning right away, and going up to the net," Mui said. "We practiced our volleys because they were a little bit weaker."
Not only was McGuirk new to playing doubles, she also faced the additional challenge of being integrated into a new team. But McGuirk has found the team to be very welcoming, saying that she is happy with the team.
"I think [the change] is good," McGuirk said. "I've adapted well. All my teammates are very friendly … so I didn't have any problems fitting in with the others."
McGuirk and Mui hit consistently in the first set, winning the set with a couple of aces by McGuirk. In the second set, the girls appeared to have the advantage, as Somers and Lange made multiple unforced errors and were unable to return strong serves by Mui, who took home the win with a cross-court shot to defeat Burlingame 6-0, 6-0.
The Matadors' league season will continue with the California Classic Tournament in Fresno on Sept. 4 and Sept. 5.
A correction was made on Sept. 18, 2012 at 10:14 P.M. Junior Kelsey Chong was misquoted and actually said, "I wasn't really playing my game."