First PTSA meeting of the year held Aug. 28
At the first Parent Teacher Student Association meeting this year, Principal April Scott and Assistant Principal Brad Metheany emphasized administration's goal of making MVHS feel like a family, where teachers, students and parents all have an important role to play in the  school's community. During the meeting, held on Aug. 28 in the library, members approved both the written minutes from the final meeting of last year and the budget for the 2012-2013 year.
The main presentation of the evening was given by PTSA vice president Loy Oppus-Moe, describing the results of the end of school PTSA survey. 369 largely student-generated responses were received covering a broad range of topics including programing and activities, PTSA-run seminars and workshops, PTSA meetings, ideas to help improve communication in the MVHS community and general comments and suggestions.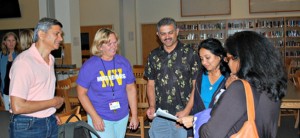 While Oppus-Moe recognized the crucial role that  PTSA plays in many school activities, she emphasized the importance of student involvement. "Students should really be the driving force of choice in this community.  This is their school," Oppus-Moe said.
While students expressed new ideas in response to the survey that could lead to many changes at school, some of them expand beyond the scope of the PTSA.  Issues including homework load, stress, teacher assessment and accountability and other important policy issues raised, have therefore been forwarded to administration for consideration.
According to the survey, the most popular events from last year funded by PTSA included "Explore Careers!" speakers, SAT and PSAT prep classes  and teacher and staff appreciation days. The PTSA is looking to expand on these more popular programs.
To close the meeting, PTSA president Jim Cunningham discussed the goals for PTSA this year and encouraged all students and teachers to become involved.
"We want the PTSA to be a place to build connections for everyone and to get conversations going between teachers parents, students and administration about real and pressing issues ," Cunningham said. "I want this to be a forum where everyone who wants to ask questions can."
The next PTSA meeting is scheduled for Oct. 23 at 7 pm. in the library. Next Friday, Sept.17,  the PTSA is also holding an event for the opening of the new football field. Check elestoque.org for more information as the date approaches.