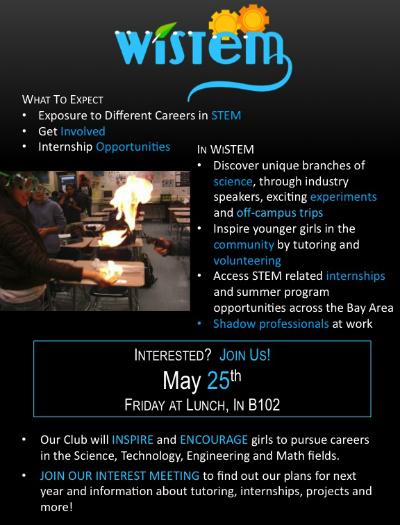 Since the disbandment of the Girls in Engineering, Mathematics and Science club in 2005, there have been no women-targeted science, technology, engineering and mathematics clubs on campus. Women in Science, Technology, Engineering and Mathematics officers sophomores Molly Vora, Pooja Desai, Namrata Ramani and Emma Lewis plan to change that.
WiSTEM will have its interest meeting on May 25. The club aims to create a forum to inspire and support young women in various STEM fields, and is based on the Lynbrook High School and Harker School WiSTEM clubs as well as the disbanded MVHS GEMS club. However, all students are welcome to join — not only the women of MVHS. Throughout next year, they plan on holding three-to-four week sessions exploring different member-chosen science fields through guest speakers and hands-on activities.
"Our personal goal is to bridge the gap between different STEM careers and increase awareness and exposure to different fields," president Vora said. "We want to have them learn by getting really involved."
As part of the club's goal to spread knowledge, members will also be working with Breakthrough Silicon Valley, a tutoring group in San Jose to help disadvantaged middle school children in algebra.
"We don't want our club to feel like school," officer Ramani said. "It's hard for a science club to be like a family environment without a project, but we don't want to have a competitive aspect. We'd like to have bonding events like going to museums and doing labs and spending time together."
The WiSTEM club will be meeting at lunch on Friday, May 25 in B102. Free ice cream will be served.
Correction: Vora, Ramani and Lewis are, respectively, president and officers but were previously listed as co-founders.