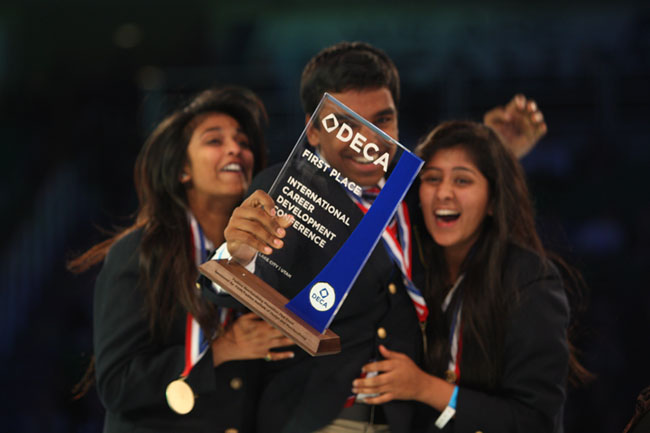 The International Career Development Conference (ICDC) is the largest and highest level of competition for those involved in DECA. With fourteen thousand high school students, advisors, business people and alumni from all around the world present, it is a conference focused on competition, leadership and education. At the end of the week, the top competitors from each event are announced and recognized for their outstanding skills.This year, the top three places were announced at the ICDC conference, and the remaining top ten were announced on May 10. However, even before the remainder of the results was released, the MVHS chapter was confident that they won first place overall.
The competition, which took place from Apr. 27 to May 2 in Salt Lake City, Utah, demonstrated the inarguable success of MVHS DECA. This year, the chapter doubled its number of first place wins from three to six, and won two third places. In addition, 47 students made it into the top twenty overall— 27 more than last year.
DECA president senior Ansh Shukla attributes this dramatic success to their new teaching methods.
"Our competitive training program this year was a lot different," Shukla said. "Before, DECA was centered around a lot of personal teaching, so you would find a senior who had done it before and they teach you everything they knew. But then we were starting to find that we were growing so big that it was kind of becoming impractical — we really needed to develop something that was more like a classroom or a school."
Officers would teach groups of freshmen, sometimes by creating Khan Academy-esque videos. This way, materials were available for all students without having to find a member experienced enough to teach them the necessary concepts. One problem the officers encountered involved long-term planning. Although concepts were taught on a weekly basis, there were no "units" being covered or an overall plan in terms of what to teach first. Another issue the officers found troublesome was that their teaching only covered the basics, causing members to rely solely on those basics during initial competitions.
"One thing we are really pushing is that what we are teaching is just the baseline. It's been done before by everyone else," Shukla said. "So what makes you special? What makes you different? We started [emphasizing] that towards the end of the year and it worked for all our ICDC competitors, but for the people that went to States and NorCal, they didn't have that mentality. So that's a problem that we need to fix."
Minor glitches aside, competitors found that these new teaching methods improved their performance at conferences. Officers used Coursekit, an online course management website, to encourage members to post articles about the business world relating to different topics. These articles help competitors in their role playing portion of the competition, helping them achieve overall success. Freshman Eric Xu credits his first place win to the new method.
"We went through the entire business administration [performance indicator] list, and we would do about 30, 40 PI's a week," Xu said. "We would prepare them for each study session and he would quiz us — speech baseball, practice role plays. Weekly, we spend about four or five hours, plus six hours at the study session for preparation."
For next year, Shukla hopes the officer team will bring this improvement to the other aspects of DECA — volunteering, the business boot camp and more.
"Every couple of years you make a leap, and the next couple years you learn how to fine tune it," Shukla said. "The great thing is a lot of success is coming from sophomores and freshmen who aren't going to be gone next year — they are just going to get better. It was a big jump this year, but look for more incremental increases next year."