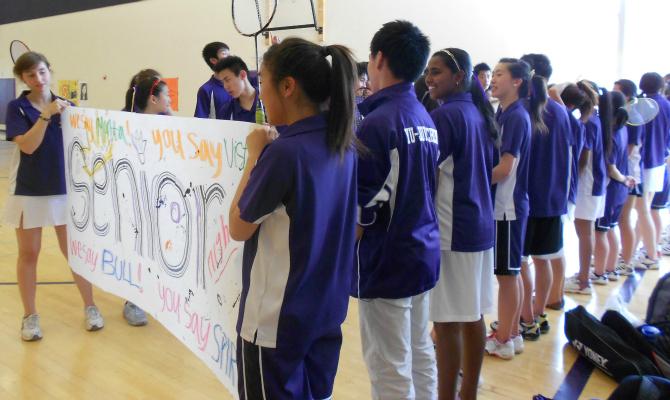 With the end of the year approaching, the badminton team held their senior game on May 9, facing Cupertino High School at home. Seniors on the badminton team played at home for the last time and each was presented with a gift bag from the rest of the team. Posters were also put up throughout the field house walls in their honor. The team celebrated the ten seniors and a 27-3 victory with a dinner at Chili's later that night.
Varsity two mixed doubles: MVHS seniors Jessica Dinh and Howard Yang against CHS seniors Sarah Choi and Timothy Chu
Chu got an early lead with an aggressive first serve for a quick point. From then on, the rhythm was set, and Choi and Chu smashed whenever given the opportunity. Though the majority of their shots ended up hitting the net, this sudden aggressiveness caused Dinh and Yang to raise their energy level as well. Through extended rallies, they found that Choi and Chu were only able to consistently return midcourt shots. As a result, Dinh and Yang were able to score points by smashing into the backcourt or pushing close to the net. Choi and Chu eventually learned to balance out their play after Matadors went on an eight-point streak, and their smashes became more accurately placed to tie 13-13 with Dinh and Yang. Both teams began to fall apart in terms of coordination, but Dinh and Yang ultimately lost the first match by a score of 13-15.
Because of their unexpected win, Choi and Chu began the next round aggressively once more. However, unlike the last round, they maintained a lead on the Matadors throughout. Chu's smashes forced Dinh and Yang towards the back of their court, so rallies were short-lived in comparison to the first round, as the Pioneers forced Dinh and Yang to play a defensive game. They pushed for points at the end of the match, but were unable to cover the large gap, eventually losing 9-15 to Choi and Chu with a game score of 0-2.
According to Dinh, she and Yang had lacked coordination because it was her first time playing this season. Due to personal reasons she had not played prior to this match. Dinh is versatile but played in mixed doubles for this match because the doubles teams were not faring well these past weeks.
"It's the first and last time [Yang and I] are playing together," Dinh said. "But I think we played really well considering that we've only played together once before."
Varsity one boys doubles: MVHS junior Ryan Ke and freshman Justin Ma against CHS senior Lawrence Luk and junior Chetan Potu
From the very beginning, Ke and Ma played lengthy rallies against Luk and Potu. More than well-placed smashes were required to score a point on either side, as coverage on both courts was solid. Ke in particular returned light shots and smashes by lunging and quickly crossing the court. Luk and Potu countered relentlessly with jump smashes despite the variation in Matadors' shots. The teams tied on four occasions, rallying extensively for each point. Nevertheless, the Pioneers hit net shots in addition to their smashes, which took their toll as Ke and Ma pulled ahead for a 15-11 victory.
This aggressiveness carried into the second round as well. Luk and Potu's consistent net shots had not changed, either, and Ke and Ma enjoyed a head start because of Luk and Potu's negligence of the backcourt. However, when the score reached 11-3, the Pioneers suddenly began to perform better, cutting down the score margin by four points by smashing aggressively. Despite this, Luk and Potu were unable to continue their comeback — by overestimating and hitting more outs than they could afford, they allowed Ma and Ke to win with a match score of 15-7, resulting in a game score of 2-0.
"The first game, we didn't do well at the start, but working together, we came through in the end," Ma said. "We played well together."