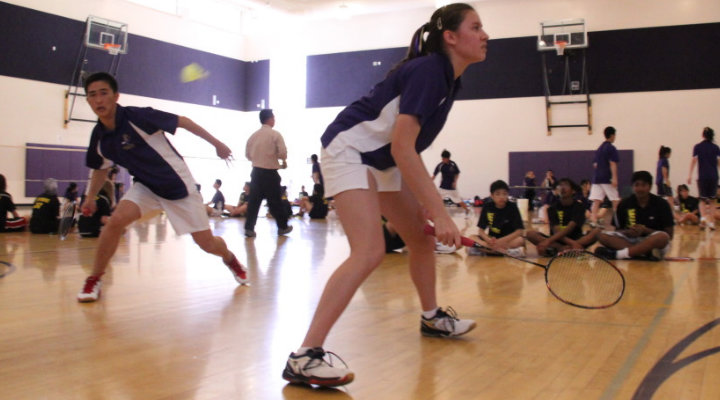 On Thursday, April 26, MVHS faced Wilcox High School for the second time, defeating them at home with a dominant score of 21-9. Though the Chargers made noticeable improvements, they were still unable to secure a win. The Matadors overpowered the team with consistent gameplay and the help of several point-costing mistakes by the Chargers.
Varsity one mixed doubles: MVHS junior Erika Sporkert and senior Sam Jiang against WHS sophomore Marian Baldonado and senior Tri Tran
From the very start play was solid, with both ends increasing their ferocity as the round went on. While both teams smashed liberally, Baldonado and Tran's first attempts rarely made it in. Sporkert and Jiang's hits, in comparison, were much more accurately placed, allowing them to keep most rallies brief in their favor. About halfway into the round, Sporkert and Jiang increased the aggressiveness of their play; Jiang's constant jump shots and Sporkert's quick reflexes resulted in a streak of twelve points that ended the game 15-3.
Wilcox returned with a vengeance for the second round, earning the first few points due to slight aiming miscalculations by Sporkert and Jiang. However, Baldonado and Tran developed a tendency of hitting shots into the net, giving Sporkert and Jiang the opportunity to catch up and eventually surpass them. Attempts at a comeback by Baldonado and Tran fell short, and though the Chargers made a push towards the end of the round, their last-minute smashes were unable to cover up errors in footwork. Sporkert and Jiang won the round 15-8, earning them a 2-0 win overall.
"[In the second round,] I think we mostly lost a lot of points mainly because of mistakes and careless errors," Sporkert said. "Performance wise, it was worse than usual…scorewise it was also worse than usual. But it wasn't necessarily bad; we just didn't play our best."
Varsity two girls singles: MVHS junior Grace Zhang against WHS senior Steffi Huynh
With a six point lead in the first round, Zhang's performance throughout the round against Huynh was highlighted by footwork and thorough coverage of the entire court. Huynh and Zhang hit few clears, instead favoring light shots, allowing for consistent rallies. On several occasions, however, Huynh committed small errors that cost her points. Zhang's strategy consisted of occasionally hitting unexpected smashes, breaking the smooth pattern of light shots and surprising Huynh off. Zhang won the round 15-2.
"I wasn't expecting a challenge. By the records we always beat Wilcox, but I still think I played pretty well," Zhang said.
The second round was much like the first, with a mixed combination of smashes and pushes on both sides. Rallies grew longer and went up in energy, in large part due to Zhang's increased aggressiveness. Because of this Huynh was forced to play a defensive game. For the entire match, Huynh was only able to gain points off of Zhang's errors. By the end, the score for the round was identical to the first, 15-2, earning Zhang a solid win overall of 2-0.
The Matadors' next game will be at Gunn High School on Thursday, May 3.