Sexual discourse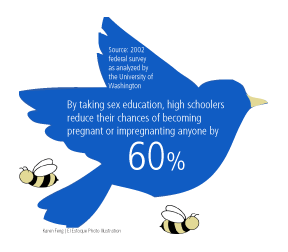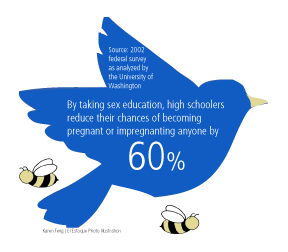 When freshmen sign up for their mandatory biology class, many of them don't think that the worksheets and lectures will affect them more than a semester or two down the line.
But for many of those same students, the topic of one week of the freshmen biology curriculum may shape the choices they make and the relationships they develop for the rest of their lives. Just two years later, during junior year, 45.5 percent of high schoolers in the US have sexual intercourse for the first time, according to the National Center for Health Statistics, Fertility, Family Planning and Reproductive Health of U.S. Women's 2002 National Survey of Family Growth, Vital and Health Statistics.
Above and beyond
California public middle and high schools are both required to each teach one unit of HIV/AIDS prevention. While comprehensive sex education — which covers abstinence, STDs, contraceptives and abortion — is optional, 96 percent of schools provide it anyway, according to Phyllida Burlingame Consulting's 2003 survey. The MVHS curriculum, a collaboration between Biology 9 teachers, covers more than just the required topics. Biology teacher Lora Lerner's six-day unit, for example, also emphasizes sexual safety and encourages communication about relationships.
Assistant principal Brad Metheany agrees with Lerner on the importance of sex education and gathering information so that students will be able to make educated decisions later in high school, college, and life.
"When it's all said and done, when the decision is made, no one is going to be there but that person: you need to educate them," Metheany said. "But the teaching going on is so wonderful and so diverse and so contemporary and so high-level that every student in the state of California should take [sex education]."
Yet Lerner acknowledges the flaws that come with such a short unit — the inadequate coverage of sexual violence and lesbian, gay, bisexual and transgender relationships and the possibility that the message may be forgotten several years down the road.
"One could argue that [most] ninth graders … are not really facing [sexual] situations yet," Lerner said. "But that's okay. I'd rather catch them before they need it. You don't really want to wait until they're juniors and seniors and maybe it's too late."
Filling in the gaps
Underclassmen sometimes find that their lack of personal experience leaves gaps in their knowledge regarding their sexuality. Sophomore Jimin Park, for example, learned everything she knew about sex through her freshman biology class.
"I wouldn't know what a condom is without [sex education]," Park said. "My family is very against talking about sex … The only sex education I get [at home] is … 'All men are wolves and you should not approach men.'"
Because of the comparatively incomplete nature of conversations about sexuality at her home, Park found the sex education unit to be valuable in learning about sex without the awkward feeling associated with such conversations with her parents.
"All the important stuff — what you like, how you like it, how you go about getting it, that's something you have to learn on your own. You can't teach it."
– senior Ian Hurtado
But some upperclassmen, like senior Ian Hurtado, believe that most learning about sex occurs outside the classroom.
"All the important stuff — what you like, how you like it, how you go about getting it, that's something you have to learn on your own," Hurtado said. "You can't teach it."
Middle College senior Krista Trieu is an example of Hurtado's ideal for learning outside the the classroom, taking her sex education into her own hands. She was able to learn more about contraceptives and health from her doctor and the De Anza Health Center than she did in the sex education unit at school.
"I think they should emphasize the fact that kids need to go out and learn for themselves what [contraception] is," Trieu said. "They need to emphasize discovering your body by yourself."
Nurturing a safer atmosphere
Lerner accepts that classroom learning often misses the social dimension of the relationships students have at school.
"[Sex education is] a cultural thing; it's an attitude thing," Lerner said. "I can tell you all this stuff, but ultimately it's the culture in the campus towards bullying people for their sexuality or abusive relationships and not talking about that. There's only so much that can happen in a classroom to help that."
She hopes that the class will inspire conversation to help build an accepting atmosphere and ensure sexual safety and acceptance at MVHS.
"What I hope is that, by presenting [the unit], that you guys are talking to each other," Lerner said. "And building an atmosphere where people say 'Hey, that's not okay for people to be treated that way. That's not okay for me to be treated that way. I'm going to speak up. I'm going to get help.' That's really the culture we want to build."