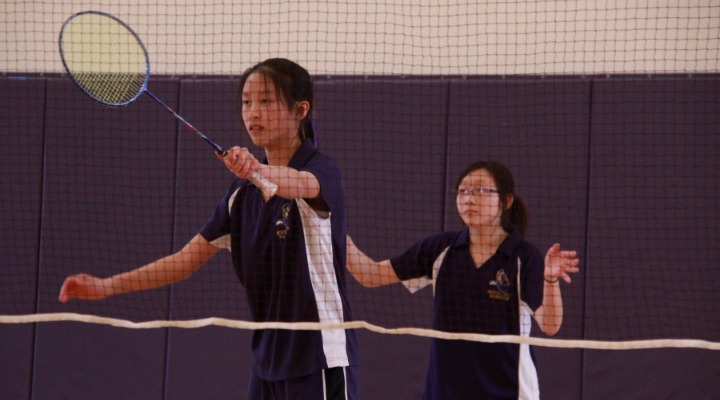 As the Matadors progress in their season, they continue their recent winning streak, defeating Milpitas High School with a 18-12 score on April 5. Overall, according to Coach Charley Situ, the badminton team did well. While the Trojans certainly narrowed the point gap with MVHS in comparison to teams that MVHS had faced at home, the Matadors' well-rounded performances made the players confident that they would be victorious.
Varsity two girls doubles:  freshmen Micaelia Sun and Annie Wang against MHS juniors Tina Chung and Vanessa Yeh
Sun and Wang started off the round with an encouraging lead, scoring the first points with well-aimed smashes. However, Chung and Yeh countered with increasing aggressiveness, smashing likewise with more power. Chung and Yeh hit with deliberate accuracy, forcing Sun and Wang to watch their boundaries, and as a result the Matadors conceded a few points due to miscalculations. As the round progressed, shots by both teams became sloppier overall, and Sum and Wang were unable to hit strong serves. Taking advantage of this, Chung and Yeh lurched ahead to finish the match, resulting in a 9-15 loss.
"We did okay, we could have done better," Sun said. "Because we were frustrated, we were just frustrated about everything. [Being freshmen on varsity] is a really, really big responsibility, but it feels good!"
Before the second round began, Sun and Wang requested line judges to uphold the fairness of the game. Sum and Wang scored first once more, but because Chung and Yeh continued their aggressive play, Sun and Wang depended on their few well-aimed shots to score. In addition to this, Sun and Wang repeatedly missed shots by a small margin, leading to no sustained rallies throughout the round. Late in the game, Sum began a comeback through consecutive and accurate smashes, but in the end the Matadors were defeated with a score of 10-15, overpowered by the Trojans in a match score of 0-2.
Varsity two mixed doubles: MVHS senior Michelle Jiang and junior Ryan Ke
Different partners, a different strategy, a different outcome. Because his usual doubles partner freshman Justin Ma was competing in the Junior International Trials in Westborough, Massachusetts during the match on Thursday, junior Ryan Ke was paired with senior Michelle Jiang to play mixed doubles against the Trojans. This proved difficult for the team during the first game, and with only one day of practice between them, Jiang and Ke were forced to adapt to both the opponents' playing styles as well as each others'. Though both teams made mistakes, Ke was able to compensate for Jiang's errors with his consistency. By focusing on his speed and executing strategically placed shots, Ke initially scored the majority of  points for his team. However, the Trojans countered with powerful shots and capitalized on forcing errors from the Matadors, eventually defeating Ke and Jiang by a score of 15-10.
"Before, I played doubles [with Ma] and it's really different from mixed [doubles], actually," Ke said. "I just wasn't used to playing mixed, and I had to move around a lot more, cover a lot and be ready for the other team's shots."
In the second game, Ke and Jiang changed their approach. Although MHS was stronger offensively, Jiang and Ke pulled out a win 15-7 with defensive play. During the third match, the Matadors stepped up up their offense, which included a powerful jump smash by Ke.However, the Trojans took an 8-1 lead at the beginning of the game, which was too large of a gap for the Matadors to close. In the end, Jiang and Ke were defeated 9-15, losing the match 1-2.
Correction on April 11 at 7:44pm: In a previous version of the story, Micaelia Sun's name was misspelled. The above version reflects this correction.